Regent Deitch praised for passion, commitment to U-M
Laurence B. Deitch on Thursday completed 24 years of service on the Board of Regents, with colleagues praising his passion for keeping the University of Michigan accessible to all students and his deep commitment to the university where he earned two degrees.
In his opening remarks at the meeting, President Mark Schlissel said that saying goodbye to Deitch, first elected to the board in 1992, presents a bittersweet moment.
"We are a better university because of Regent Deitch's service," the president said. "Since his election in 1992, he has helped select and has worked closely with many presidents and academic leaders on campus. He has helped me and my predecessors navigate many highly complex issues facing our university over the last quarter century.
"I have personally learned a great deal from Larry — as a colleague, mentor and friend — and am grateful that I have been able to work with him these past three years."
The president said Deitch has "steadfastly and successfully defended the board's constitutional autonomy and he has always cared deeply about equality of opportunity and treatment for all members of our community. Larry also worked hard to promote access to a U-M education for talented and hard-working students from all parts of society.
"We will miss his sharp, analytical thinking, his inquisitive mind, his deep commitment to academic excellence and his wit. And most importantly, the University of Michigan is a better place because of his service," Schlissel said.
Deitch said it was a privilege to serve as a regent.
"In a university that has given me much more than I gave it, including the fact that 50 years ago I met my girlfriend here," he said, referring to his wife, Penny, who was in the audience. "And (as regents), we're a team. I always thought this was a team sport, and this is how we operated. We didn't always see eye-to-eye but we got some really great things done.
"I'm happy to say the university, which will be here forever, is better today than it was 50 years ago and I will miss you all very much."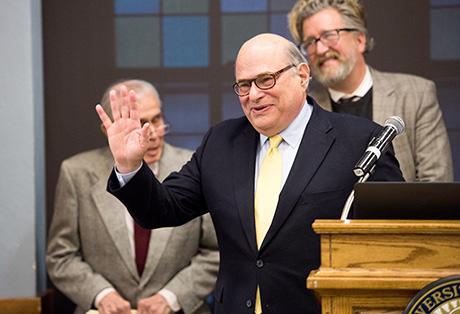 Regent Laurence Deitch acknowledges the audience at Thursday's Board of Regents meeting during ceremonies honoring his 24 years on the board. (Photo by Eric Bronson, Michigan Photography)
Deitch is a partner in the Bodman PLC law firm in Detroit. He earned an A.B. degree in 1969 and J.D. degree in 1972, both from U-M. He also was praised in a resolution signed by his board colleagues that granted him "regent emeritus" status. 
"Regent Deitch has brought critical thinking and a deep passion to every important issue facing the university, from hiring multiple presidents to supporting academic quality," according to the resolution, which was read by Regent Katherine E. White. "He has been passionate about assuring access and affordability for our students. He saw the potential to quickly accelerate expansion of research through acquisition of what is now the NCRC.
"With his unwavering commitment to diversity and equality, Regent Deitch led the effort to expand the non-discrimination statement to include sexual orientation. He staunchly defended affirmative action, and he supported changes to the Residency Guidelines to be welcoming of undocumented students and veterans."
It was his work to expand the non-discrimination statement that brought a special recognition. Deitch will be recognized in conjunction with a University Musical Society concert by the Budapest Festival Orchestra.
Thanks to a gift from Jim Toy, co-founder of U-M's Spectrum Center and longtime UMS supporter, Deitch will be recognized at the Feb. 10 concert in Hill Auditorium.
Toy thanked Deitch for his fierce advocacy of LGBTQ students, faculty and staff.
"When the regents were asked to include sexual orientation as a category protected from discrimination, and later when gender was also considered, Larry Deitch spoke out forcefully and eloquently for these protections. We owe Regent Deitch our heartfelt thanks."
Regent Michael Behm said he was impressed with Deitch's ability to place an issue in context.
"You've been able to explain why an issue is so important, when it might not even be on our radar," Behm said. "That is fascinating to me and awe-inspiring. I've seen few people who stand for what they believe in like you do. If we continue in that tradition, we are in good hands."
Regent Mark J. Bernstein, chair of the board, said he has admired Deitch in the short time they have worked together. "When you have the privilege of serving on the board, over time you realize what's at stake here. You grow to respect colleagues, who you may not always agree with, for their contributions. I will miss working with you every day."
Regent Shauna Ryder Diggs said Deitch has led the regents "with integrity, intelligence, directness and an absolute love and affection. You have been an exemplary regent. You have, above all else over the past 24 years, kept the future and the needs of the university first and foremost."
Regent Denise Ilitch said it was a privilege to work with Deitch in the last eight years, and commented on "how much fun it was to have you as a running mate. The greatest thing about U-M and the board is how much you learn from working with others. I find you so passionate. … Your 24 years here have made such a difference to the university and to all the people you have touched."
Regent Andrea Fischer Newman said she looked forward to Deitch's counsel for years to come.
Regent Andrew C. Richner noted that all regents are elected to the board temporarily. "We have a limited time to make our mark. In Larry's case, he made more than a mark. As a leader on this board, no one can question your integrity or commitment to this university."
Regent White said, "I cannot imagine being on this board without you on it. You are my trusted ally, and will always be my dear, trusted friend."
Vice President for Government Relations Cynthia Wilbanks said she was speaking on behalf of her executive officer colleagues when she thanked Deitch for his passion for the university and for keeping administrators on their toes.
"Thank you for pushing us to do harder work by demanding the best from us," Wilbanks said.
Republican Ronald Weiser won the November election and will join the board in January.