Radrick Farms Golf Course celebrates 50 years and place in history
Legendary golf course designer Pete Dye had only built a nine-hole golf course in Indiana when U-M President Harlan Hatcher hired him to build Radrick Farms Golf Course.
The world of golf was forever changed.
Hatcher's decision, combined with a gift of land along Geddes Road and the contributions of numerous people, have made Radrick Farms a remarkable asset for the university. Throughout 2015, the Radrick Farms community has been celebrating the golf course's 50-year history and a milestone anniversary.
The 50th celebration has included opportunities for all to review the golf course archives. They include photographs, historical records and memorabilia. A golf tournament Sept. 20 was held to show appreciation for the continued loyalty and support of Radrick's season pass holders, many a part of Radrick for decades.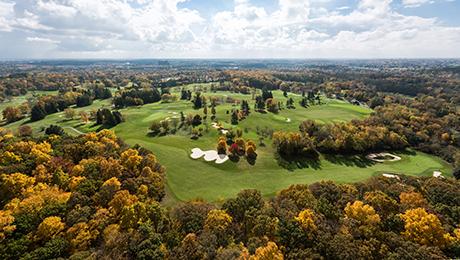 Throughout 2015, the Radrick Farms community has been celebrating the golf course's 50-year history. (Photo by Austin Thomason, Michigan Photography)
"It's been a lot of fun out here the last four years, creating some great memories for me with my kids. Great place. Wonderful course. And we're just really happy to be out here," says Chris McDougall, a season pass holder and U-M alumnus.
Radrick Farms received support and guidance from a 50th Planning Committee. Golfers were given an opportunity to record and share their favorite Radrick story. The recurring theme was gratitude.
It was landscape architecture graduate student Bill Newcomb who suggested that Hatcher hire Dye, then an unknown golf course architect. Since then, Dye and his wife, Alice, have become legends in the world of golf, as they have gone on to build other masterpiece courses including the TPC at Sawgrass and Whistling Straights.
In fact, their designs have hosted more PGA Tour and Major Championship tournament events than any other golf course architects in the history of golf. Pete and Alice Dye credit the U-M opportunity for jumpstarting their golf course architecture business, and they give support and insight to continuous improvements at Radrick Farms.
In appreciation of their efforts and legacy, the Board of Regents recently named Radrick's half-mile private drive and clubhouse circle as "Pete Dye Drive" and "Alice Dye Circle."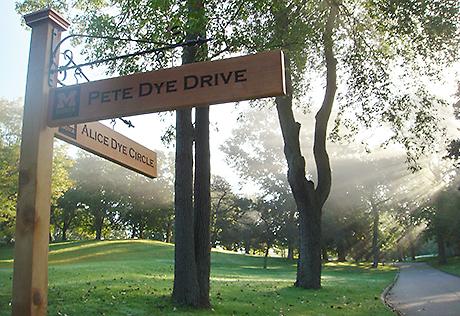 The golf course's private drive and clubhouse circle have been named after designers Pete and Alice Dye. (Photo courtesy of Radrick Farms Golf Course)
Also contributing to Radrick Farms' creation was alumnus and former regent Fred Matthaei Sr. He donated his home and several hundred acres that make up the golf course, Matthaei Botanical Gardens, a Recreational Sports facility and more. The clubhouse was once the Matthaei family residence.
Once the site of a gravel mine, the golf course was restored to ecological vitality by the Matthaei family. As teenagers more than 70 years ago, Frederick Matthaei Jr. and his brother Conrad planted many of the trees throughout the property. The brothers chose to use the second syllable from each of their names to create the name "Radrick Farms."
In honor of the Matthaei family's contribution, a monument and plaque were dedicated Sept. 18 adjacent to the clubhouse. (Photo courtesy of Radrick Farms Golf Course)
The land now features lush trees, wildlife habitats and an opportunity for the university community to enjoy nature just moments from campus. The environmental stewardship displayed by the Matthaei family continues to this day.
The golf course continues to be recognized for its stewardship efforts. These include certification as an Audubon Cooperative Sanctuary. Radrick Farms also was the first golf course designated by the Michigan Department of Environmental Quality as a Clean Corporate Citizen.
In honor of the Matthaeis' contribution, a monument and plaque were dedicated Sept. 18 adjacent to the clubhouse.
Radrick Farms' passionate customers and loyal employees also are key to its success. The golf course has employed more than 1,000 people, many of them students, and provided more than 1 million rounds of golf.
The  50th Planning Committee included Jeannine Galetti, an alumna for whom a scholarship at the School of Kinesiology is named; and former Michigan Union Director and Senior Associate Vice President for Student Life Frank Cianciola, who also has a named scholarship.
Alumnus Dan O'Toole, longtime season pass holder Deb Teichman, former employee and current pass holder Ace Milne, Rose Bowl champion and pass holder Jerry Danoff, and several others volunteered their time and energy to help define the yearlong celebration.
"Our golfers and staff are grateful to share this special property with their friends and family, grateful to be a part of an amazing community, and grateful to the people that have helped create a truly exceptional golf course," said Paul L. Scott, general manager of Radrick Farms.
"As we look forward to the next 50 years, the entire team at Radrick Farms is honored to continue the legacy of stewardship and service created by Hatcher, Pete and Alice Dye, the Matthaei family and so many others."