Preservation Clinic to help people save personal pieces of history
As the University of Michigan celebrates its bicentennial year, U-M Library wants to help members of the campus community preserve their own pieces of history for future generations.
A walk-in Preservation Clinic in the Hatcher Graduate Library Gallery is planned from 4-7 p.m. April 27. Preservation and conservation experts from the U-M Library will be available for free one-on-one consultations to give advice about caring for treasured items, such as diplomas, theses, photos and more.
Preservation advice is available for any items brought in, regardless if they are related to a university experience. The clinic is free and open to the public.
Experts in various media will advise people about how to store, handle, and safely display or share audio and video recordings, books, diaries, genealogical information, letters, maps, photo albums and photographs, postcards, prints or scrapbooks.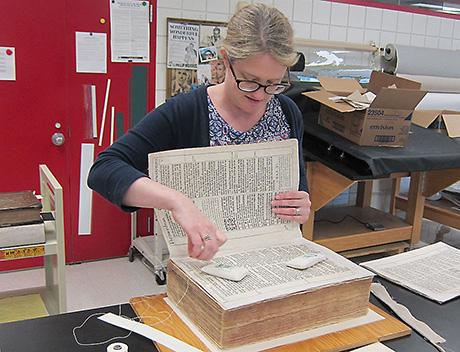 Marieka Kaye, book and paper conservator at the U-M Library, works on a book binding. (Photo courtesy of U-M Library)
Also, experts in digital preservation will offer advice on how to scan originals and manage electronic files — images, text and audio — through ever-changing formats and standards.
The library is interested in preserving collections — in libraries and archives, but also those held and loved by individuals and families — because history matters.
 "We never know what items people will bring to the annual clinic," said Shannon Zachary, head of preservation and conservation at the library. "But, because of our experience caring for the library's vast collections, we're prepared to connect people with the information and resources they need to care for their personal collections and treasures."
The library's Department of Preservation and Conservation comprises services for the care and maintenance of the library's collections — to prevent damage, to extend usable life, or to repair damage — and coordinates preservation activities for the library's digital collections.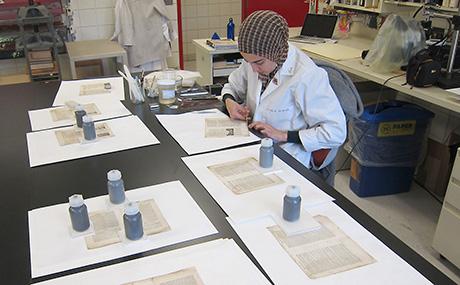 Aisha Wahab, paper conservator at the library, repairs pages. (Photo courtesy of U-M Library)
The Digital Conversion Unit, part of the library's Department of Digital Content and Collections, manages all aspects of scanning so older materials can be stored and shared digitally.
This event is offered in conjunction with the American Library Association's Preservation Week, a national initiative to connect people with resources to preserve cultural heritage.