Political science professor researches what is written in stone
In research, symbols are important. Parentheses enclose and set off material from the main text. Superscript numbers signify a footnote. And, in Ron Stockton's research, a dash indicates a lifetime.
For nearly 20 years, he has been traveling to cemeteries all around the world — Oman, Spain, Scotland and more — to research and give that dash a bit more meaning.
"Sometimes a lot happened, sometimes a little. But, with that dash, there is always a story," said Stockton, professor of political science at the University of Michigan-Dearborn. "With more and more stories disappearing with every generation, I wanted to do my part to document what I still could."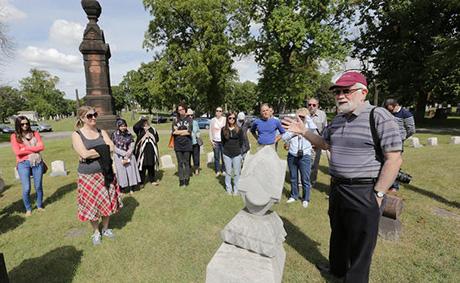 Ron Stockton, professor of political science at UM-Dearborn, has spent nearly two decades researching cemeteries. (Photo courtesy of Ron Stockton)
Stockton's interest in cemeteries didn't begin with research in mind. It grew out of a series of Decoration Day — now known as Memorial Day — celebrations he attended as a youth with family in his small, southern Illinois town.
Stories passed down to a young Stockton of people long gone — coal miner family members who provided fuel for locomotives and a great uncle who was a devoted military man killed during World War I — gave the stone-marked plots meaning.
"I grew up visiting the cemetery since before I could remember. No one shared any idea of it being evil or creepy. It was an interesting place that was both a memorial for our families and an important part of my hometown's history," he said. "That's how I hope others see cemeteries too."
A teaching award in the early 2000s allowed Stockton's academic career and cemetery interest to unite. He took the monetary prize associated with the award and wrote a book based on the research he had done on that family cemetery — Horse Prairie Cemetery — and the inventory independently collected by Clara Crocker Brown, a lifelong resident of the town.
He has since published several academic papers. His most recent work is "Muslim Gravestones in Detroit: A Study of Tradition, Diversity and Adaption," which focuses on 65 southeast Michigan graves with various cultural markings — including Bosnian, Lebanese, Chinese, Albanian, Pakistani and African-American.
The weekly Spotlight features faculty and staff members at the university. To nominate a candidate, email the Record staff at urecord@umich.edu.
Stockton also has had speaking engagements at national conferences, curated art shows, given community lectures on local cemeteries, created courses for students, and led cemetery tours.
And he's noticed that people are just as curious as he is.
The Horse Prairie Cemetery data that started this area of his research still gets hundreds of downloads each month. The Graveyard 101 public lectures have always been full. And students in HIST 263: Western Civilization — in which Stockton takes the class on a cemetery tour — give positive feedback on their experiences.
"A cemetery is a way to view years and years of history," he said. "I share stories about specific people to contextualize it. Then it's not a place with dead people. It's a place where people who shaped our community reside together."
Q & A
What moment in the classroom stands out as the most memorable?
When I realize a student has encountered a new way of thinking and has begun to reassess.
What can't you live without?
Books. I read constantly, and love it.
Where is your favorite spot on campus?
I love to go out into the woods for a walk on the campus of UM-Dearborn, which is on the Henry Ford estate. How amazing that I have been able to spend my whole career on a garden in the midst of a major metropolitan area.
What inspires you?
This week, my grandson explained to me why he had decided to take a knee during a college soccer game. … He said his motive was to show that he believes we should listen to each other and discuss serious issues. That really inspired me.
What are you currently reading?
I just finished "All Hell Let Loose" by British historian Max Hastings, and "What Happened?" by Hillary Rodham Clinton.
Who had the greatest influence on your career path?
My wife. She has supported me and inspired me over the decades. Without her support, this son of a coal miner would never have pursued a doctorate or persisted in all the things I have studied in my research.