China partnership expands with new Ross master's program
The University of Michigan is expanding its biggest international partnership, launching a new program for engineering students in China who want to earn a Master of Management degree at the Stephen M. Ross School of Business.
The U-M partnership is with Shanghai Jiao Tong University and the University of Michigan-SJTU Joint Institute. The expansion also will create new opportunities for faculty research and student exchange between Ross and the SJTU Antai College of Economics and Management.  
SJTU is one of China's leading universities. In 2006, U-M partnered with it to create the Joint Institute, where more than 1,000 undergraduates study computer, mechanical and electrical engineering. All courses are taught in English by more than 20 full-time faculty members.
Last year, the joint venture became the first U.S.-China collaboration to win the Heiskell Award — one of the highest honors in international higher education — in the partnership category.
Ross Dean Alison Davis-Blake and SJTU representatives took part in a special event on May 22 in Shanghai to launch the new collaboration.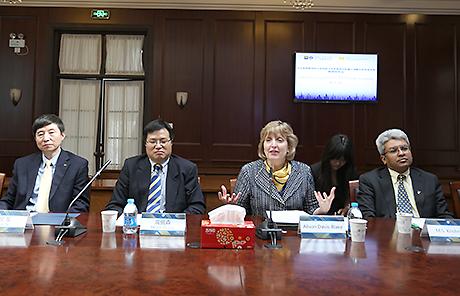 Announcing U-M's new project with Shanghai Jiao Tong University are, from left, Jun Ni, honorary dean and professor at the UM-SJTU Joint Institute and professor of mechanical engineering; Peisen Huang, dean of the Joint Institute; Ross School Dean Alison Davis-Blake; M.S. Krishnan, associate dean for global initiatives at Ross. (Photo courtesy of Ross School)
"As a global business school, partnerships such as this are key to providing a world-class business education and giving our students direct experience in the global economy," Davis-Blake said.
"This new partnership will benefit Michigan Ross and SJTU by broadening international engagement for our students and faculty and providing a truly unique, cross-disciplinary educational experience for the JI students to leverage their engineering experience with business fundamentals."
The new Master of Management program for the Joint Institute's engineering students will begin in July. Students will study accounting concepts in China before departing for nine months of study at Ross, where they will join the Master of Management program in Ann Arbor.
The Joint Institute students will then return to SJTU to conclude the innovative program with a seven-week, action-based learning capstone project led by Ross faculty at a multinational corporation based in China.
The Ross Master of Management program, launched in 2014, is designed to give non-business undergraduates a core grounding in business principles. The program is ideal for engineering and liberal arts undergraduates looking to add business acumen to an impressive bachelor's degree.
"One of the goals of JI is to make our programs more international. Through this new partnership with the Ross School of Business, we bring our international collaborations to a new level and a new territory," said Peisen Huang, dean of the UM-SJTU Joint Institute.
"I believe this unique educational model, incorporating engineering and business, will create terrific career opportunities for our students. The initiative also offers a timely response to the Chinese government's recent call for national focus on innovation and entrepreneurship."   
Students, parents, faculty and staff from China and Ann Arbor took part in the special event, which included presentations from Davis-Blake, Huang and M.S. Krishnan, Ross associate dean for global initiatives.
"I'm proud of this unique partnership between top engineering and business schools in China and a top business school in the U.S.," Krishnan said. "This will broaden our engagement in China, which is a priority of our global strategy."