Panel takes input on faculty beliefs and students' experience
Students and faculty members shared their views Wednesday with a faculty panel exploring how faculty members' political ideologies should intersect with their responsibilities to students.
About 30 people turned out for a discussion that included how faculty members' personal beliefs potentially affect the student experience, faculty and student rights and responsibilities, and the debate over how recommendation letters should be granted.
+ additional public meetings
Dearborn — Jan.10, 9-11 a.m., Quad E, Fairlane Center North

Flint — Jan. 10, 3-5 p.m., French Hall, Room 111

Ann Arbor — Jan. 11, 10 a.m.-noon, East Hall, Pierpont Commons
The six-member panel established by Provost Martin Philbert is led by James J. Duderstadt, president emeritus and University Professor of Science and Engineering. While not charged with recommending specific policies or processes, it has been asked to recommend appropriate considerations and principles.
About 20 people spoke at Wednesday's meeting at the Palmer Commons Forum Hall, the first of four such public sessions for members of the university community scheduled between now and Jan. 11. The panel also will gather input through a broad survey of faculty, staff and students.
Several audience members referenced the recent case of a U-M faculty member who refused to provide a previously promised letter of recommendation for a student because the student sought to study abroad in Israel. That action has led to various campus discussions about the role of faculty members' personal beliefs in the recommendation process.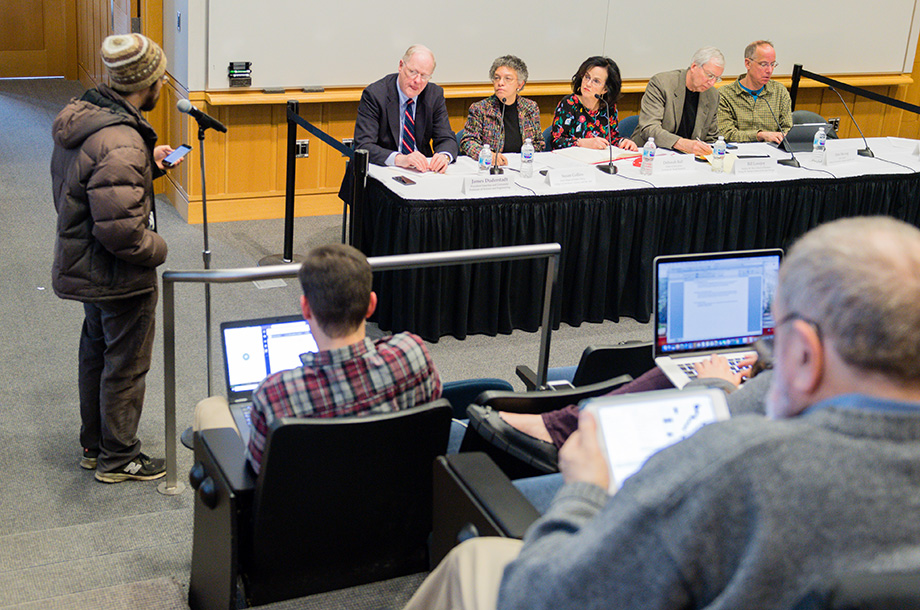 Jared Eno, a graduate student instructor pursuing a Ph.D. in public policy and sociology, addresses the faculty panel consisting of, from left, James J. Duderstadt, president emeritus and University Professor of Science and Engineering; Susan Collins, Edward M. Gramlich Collegiate Professor of Public Policy and professor of economics; Deborah Ball, Arthur F. Thurnau Professor, William H. Payne Collegiate Professor of Education and professor of education; Bill Lovejoy, Raymond T. J. Perring Family Professor of Business Administration, professor of technology and operations, and professor of art and design; and Don Herzog, Edson R. Sunderland Professor of Law and professor of political science. Deborah Goldberg, Arthur F. Thurnau Professor, Margaret B. Davis Distinguished University Professor of Ecology and Evolutionary Biology, and professor of ecology and evolutionary biology, also serves on the committee. (Photo by Daryl Marshke, Michigan Photography)
Clifford Lampe, professor of information, said a major goal of the university is not merely to get students jobs, but to train them as citizens.
"Part of training citizens is being a good representation to young citizens on what you do to express that citizenship," Lampe said, adding that any mandatory or forced recommendation letters renders all such letters meaningless.
Juan Cole, Richard P. Mitchell Collegiate Professor of History and professor of history, said he thinks it would be "highly unwise" for the university to create a policy regarding issues of conscience and the duties of professors to students.
"The university is in loco parentis of minor students but it's not in loco parentis of professors," Cole said. "And whether and how and when to agree to write a recommendation letters really needs to be up to the judgment and conscience of the individual faculty member."
Robert Weinbaum, an LSA student applying to graduate school, said he doesn't favor setting a precedent for the interactions faculty can or cannot have with students, but that one must consider where the line is drawn and how that can impact students.
"There are certain people that not having letters of recommendation from says more than I just disagree with that program," Weinbaum said. "It says something about the student in the application process."
LSA student Francis Misra, who described "coming out" in classes as a conservative, said he doesn't think teachers should be censored or told how to express their beliefs, but cautioned against professors expressing what they think students "ought to believe."
"I think professors should be encouraged to express what they believe and where they're coming from," Misra said. "I would just hope that they don't conflate the two for being the correct view versus their view."
Canyon Bosler, a graduate student instructor in economics, said the process of granting letters of recommendation should leave room for a dialogue between students and instructors.
"I think all faculty understand that we have obligations to our students," Bosler said. "When we let it get blended into whether or not we're going to coerce and/or punish faculty for letters that they do or do not write, we suddenly lose track of that strain of commitment that is, 'I am invested in my students.'"