NIH chief discusses research funding trends, role of MCubed
These are exciting times for biomedical research funding, National Institutes of Health Director Francis Collins told faculty members and students Wednesday at the 2017 MCubed Symposium.
A downward trend in NIH's federal funding that began around 2003 and hit a low point in 2013 has turned around in recent years.
"The good news is we hit the bottom and things have started to move up in the right direction," said Collins, a former Howard Hughes Medical Institute investigator at U-M.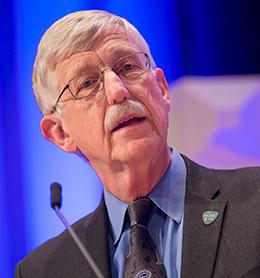 National Institutes of Health Director Francis Collins delivered the keynote address at the 2017 MCubed Symposium. (Photo by Joseph Xu, College of Engineering)
"Much credit to both houses (of Congress) who have found a way to give an additional $2 billion to our budget last fiscal year and who seem poised by December to do that again. That would mean something like a 20 percent increase in support for biomedical research in a three-year period. That's encouraging. This is a pretty exciting moment to see how the enterprise is moving forward."
In 2003, before the budget decline began, researchers submitting grant proposals had a roughly 30 percent chance of receiving an award. By 2015, that had dropped to 15 percent.
Collins credited MCubed with helping to spark the kind of interdisciplinary work that NIH seeks to fund. MCubed encourages faculty members to work with colleagues in other fields by giving seed grants to teams of three professors from at least two different disciplines.
"I've been watching it from a distance," Collins said. "The rest of the world has also been looking at this as a particularly innovative and creative way to start collaborations quickly."
Interdisciplinary collaboration is critical to moving science and society forward, he added, quoting Woodrow Wilson: "I use not only all the brains I have, but all I can borrow."
"From my own perspective, this has been true in almost any instance," Collins said. "You've got to go out and find out who's out there and has a complementary approach. Tackle a hard problem but don't imagine you can do it all by yourself."
He closed by nodding to his lapel pin that said, "Hope."
"Hope is a privilege that attaches to action," he said. "No action, no hope. If we want to see advances in the life sciences, in science in general, and in society, it requires that kind of action. I know MCubed is about action."