New website offers wide range of details on U-M's bicentennial
Details about the University of Michigan's 2017 bicentennial, including festivals, academic programming, grant programs and more, can be found in a new website that celebrates 200 years of impact.
"We want to share the many legacies of Michigan to help set the stage for 2017, when we will examine the contributions of the university as well as contemplate the future of higher education, both here and through the nation," said Gary D. Krenz, executive director of the bicentennial.
+ more information
The bicentennial year will feature four festivals throughout 2017, colloquia sponsored by President Mark S. Schlissel, theme semesters led by LSA, exhibits, lectures and more.
The site offers numerous opportunities for students, staff and faculty to involve themselves in the bicentennial, such as developing projects and activities, engaging in research, or creating exhibits for the Third Century Expo, which will showcase innovative and creative work throughout the university. Information also is available about grant funding.
Developed by the Bicentennial Office and Michigan Creative, the site features historic images from the Bentley Historical Library's extensive holdings, as well as contemporary scenes captured by Michigan Photography.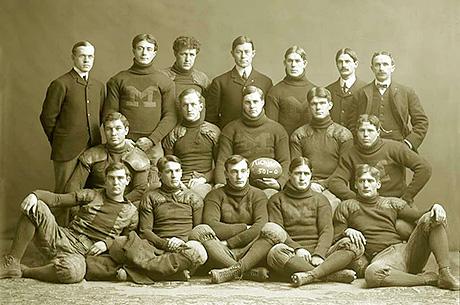 Among the photos that are part of the new website is this team photo of the 1901 football team that won U-M's first national championship, and U-M neuroanatomist Elizabeth Crosby receiving the National Medal of Science from President Jimmy Carter in 1979. (Photos courtesy of Bentley Historical Library)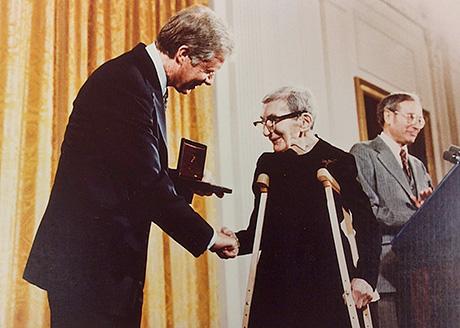 The distinctive characteristics of the university are captured in "This is Michigan," which examines such legacies and achievements as vaccine development, a rich literary tradition, the splendor of the Diag, and continuous efforts to broaden diversity and strengthen tolerance. 
The site also offers a rich timeline of U-M history in words and photographs highlighting all three campuses. The timeline includes such notable moments as: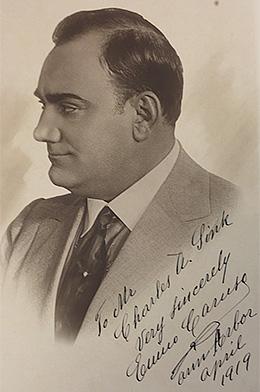 Famed tenor Enrico Caruso shared an autographed photo with University Musical Society President Charles Sink after performing at Hill Auditorium in 1919. (Photo courtesy of University Musical Society)
• Louis Fasquelle, a professor of French and native of France, becoming the first foreign-born member of the faculty in 1846.
• The football team winning its first national championship — and the first for any Michigan team — in 1901 after outscoring that year's opponents, 501-0.
• Several thousand people mobbing the local train station for a five-minute appearance in 1912 by former President Theodore Roosevelt, who remarked, "Makes me feel as if I were coming to Ann Arbor during football season."
• The great tenor Enrico Caruso performing at Hill Auditorium in 1919, singing "Vesti la giubba" and other arias.
• Chemist Moses Gomberg delivering the inaugural Henry Russel Lecture, considered the university's highest honor for a senior faculty member, in 1926.
• Willie Hobbs Moore becoming the nation's first African-American woman to receive a Ph.D. in physics when she earned her degree in 1972.
Students participating in the Undergraduate Research Opportunity Program conducted hundreds of hours of research at the Bentley Historical Library, exploring and confirming materials for the site.