New UMMA director to seek public input during open office hours
Christina Olsen, director of the U-M Museum of Art, wants to chat.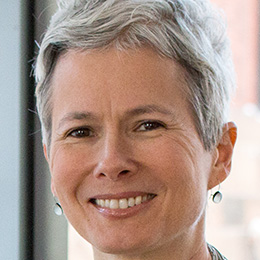 Christina Olsen
Olsen, now a little more than two months into her term, is hosting open office hours in the UMMA Commons in February, March, and April. She is inviting visitors, U-M staff and faculty, students, and community members to drop in and talk one-on-one about the museum, ways it might change, and to ask questions.
"I want to hear from the people that care about this museum, and who want to shape its future," Olsen says. "UMMA needs to be open to new ideas. A great way to get new ideas is by talking with people face to face."
Open office hours dates and times include:
+ more information
• Feb. 5, noon-1 p.m.
• Feb. 6, 4–5 p.m.
• Feb. 12, noon-1 p.m.
• Feb. 13, 4–5 p.m.
• March 5, noon-1 p.m.
• March 6, 4–5 p.m.
• March 12, noon-1 p.m.
• March 13, 4–5 p.m.
• April 2, noon-1 p.m.
• April 3, 4–5 p.m.
• April 9, noon-1 p.m.
• April 10, 4–5 p.m.
Olsen will talk with visitors on a first-come, first-served basis. Visitors should line up near the director's table in the UMMA Commons.
Olsen started her tenure at UMMA on Oct. 30, 2017, and was previously the director of the Williams College Museum of Art.
In her first year, Olsen plans to present ambitious exhibitions centered on today's issues, take a fresh look at UMMA's galleries and public spaces, and unveil a new installation focused on abstraction and race in the early 1970s.