Tauber Institute workshops for factory floor managers draw praise
It's not Hollywood. But the staged factory floor setting just 4 miles south of Central Campus and the workshops presented there are drawing great reviews.
The Tauber Institute's new Operations Leadership Factory workshops, which debuted in February, draw participants from tier 1 and 2 automotive firms and other manufacturers. Trainees attend classes and also watch Tauber Institute staff, in blue work shirts with maize Block M logos, assembling turbo chargers for Indy cars.
The workshops are for factory floor supervisors, engineers and managers. Through demonstrations and class sessions, trainees learn how to run more efficient, lean assembly operations — particularly when they seek ideas from workers on the factory floor.
 "Learning the ability to train other people was very useful, and the ability to improve efficiency, and involving the work force," says Willie Holley, a supervisor with Shinola Detroit, makers of watches and leather products. He attended sessions along with fellow Shinola supervisor Gregory Pierce.
The training is valuable, Pierce adds, because supervisors learn how to make workers feel needed when they hear the workers' ideas on making operations more efficient, or lean.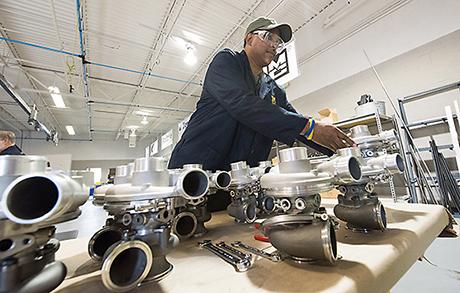 Rodney Mosley of the Tauber Institute staff acts as a factory floor worker during a recent Operations Leadership Factory workshop. (Photo by Daryl Marshke, Michigan Photography)
"Lean in a manufacturing environment is a way to improve productivity and do more with less. The purpose of the workshops is to practice lean tools and behaviors so that the participants feel comfortable to lead the lean efforts at their companies," says Matthew Potoff, director of the Tauber Institute Operations Leadership Factory.
Cole Blackport, a trainee from the Kentucky facility of Warren-based SRG Global, a plastic auto-parts maker, said the workshop is valuable for offering hands-on training and the ability to talk with those acting as line workers. Blackport says this offers good practice for the training they'll be doing when they return home.
Trainees, typically 12-16, attend two-week workshops at the Tauber Institute's facility at 3901 Varsity Drive just southeast of I-94 and State Street.
In one manufacturing scenario, trainees watch a worker walking several yards to a shelf on a wall to pick up a part, during assembly. Trainees directed to watch for efficient or lean operation opportunities rightly point out the operation would be more efficient if parts were stored closer.
"We rearrange the operations so they're walking less, and rearrange the order in which they did the operations to save time," Potoff says.
Larry Seiford, Goff Smith Co-Director of the Tauber Institute for Global Operations and professor of industrial and operations engineering, College of Engineering, says the new U-M workshops are an innovative way to teach efficiency.
"Typically, classes for industry that teach lean operations have been taught in a hotel ballroom, with people building Legos or folding paper planes. You don't get the real sense of lean in a factory, so we developed this approach to teach in a real factory setting," he says. 
Trainees also go through exercises to become effective in explaining the changes they're envisioning to co-workers. "The participants get to practice how to talk to the people on the floor," Potoff says.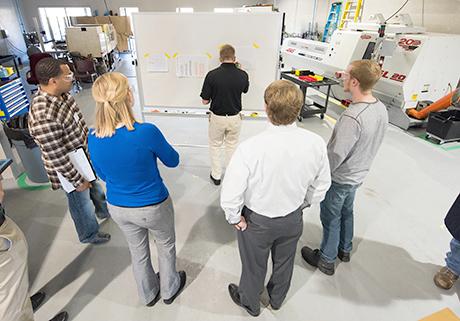 Trainees wait their turn to present bar graphs depicting how long various assembly operations take. They will return to their companies with fresh insights on how to evaluate operations to make them more efficient. (Photo by Daryl Marshke, Michigan Photography)
To challenge participants to communicate effectively, U-M staff portraying line workers in this exercise respond by acting skeptical and otherwise challenging trainees. This forces trainees to fine-tune their message.
"They have to explain to our operators what they're trying to accomplish. This drives home the learning really well," says Nick Julius, a Tauber Institute engineering technician and a training session leader.
Operations Leadership Factory participants also are trained to maintain line balancing, a process in which the amount of work and time to complete a process for each worker is evaluated, through bar graphs and other means.
"You're only as fast as your slowest person during the process. You want to distribute the workload so each station takes the same amount of time," Potoff says. To get this result, attendees are encouraged to move operations among work stations.
Seiford says lean manufacturing practices can be applied to any industry. He said that while the current Operations Leadership Factory's focus is discrete (component) part manufacturing, it could expand.
He says continuous-flow manufacturing, such as in bottling operations, can also benefit from a lean manufacturing approach, and so can office or service area operations.