New SNRE 'Wolves' exhibit targets divisive issue
The works of two local artists who passionately oppose wolf hunting in Michigan went on display Monday at the School of Natural Resources and Environment, one day before voters across the state cast ballots on the issue.
"Wolves," an exhibit by Marcia Polenberg and Ted Ramsay, will run through Dec. 29 at SNRE's Art & Environment Gallery, which occupies five showcases in the Dana Building's first floor commons area.
+ more information
"As I see it, the wolves are the underdogs in this situation, and I am standing up for them just as I stand up for justice," said Polenberg, who earned a Master of Fine Arts degree from U-M and has taught at the university's Ann Arbor and Flint campuses, among other places.
"As an artist I create images in clay, in drawing and mixed media that I hope will speak to the viewer in a memorable way, expressing my passion for preserving our wolf population and for walking gently on this earth," said Polenberg, who gathered signatures to get two wolf-hunting referendums on the Nov. 4 general election ballot.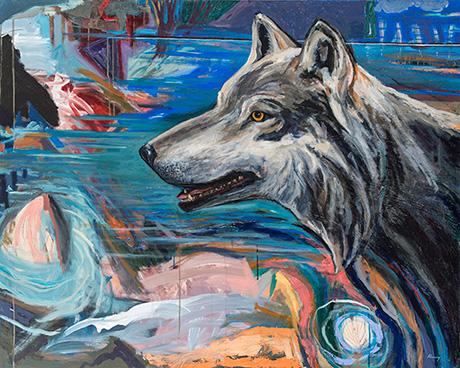 "Yellowstone Wolf" an acrylic painting by Ted Ramsay.
The statewide ballot measures, which are considered largely symbolic, ask voters whether they approve or disapprove of two laws the Michigan Legislature passed in 2012 and 2013 allowing gray wolf hunts.
A hunt held in the Upper Peninsula last year killed 22 wolves, according to the Michigan Department of Natural Resources, which in April estimated that a minimum of 636 wolves live in Michigan, all of them in the Upper Peninsula.
The department favors hunting as a way to reduce wolf predation of domestic animals and to control the number of wolves in specific areas of the U.P. where other control methods have not been effective.
This summer, Lansing lawmakers passed a third law empowering the state Natural Resources Commission to designate game species and to set hunting and fishing policy. That law will remain in effect regardless of how the Nov. 4 votes turn out.
The SNRE exhibit consists of one large pastel painting and one ceramic sculpture by Polenberg, along with one acrylic painting and three mixed-media installations by Ramsay. A 5 p.m. reception on Nov. 12 will feature a 30-minute presentation and question-and-answer session with the artists.
Ramsay, a professor emeritus at the Penny W. Stamps School of Art and Design, said his works at the SNRE exhibit "are about rethinking our approaches to controlling nature and stepping back into the role of existing as a part of nature rather than trying to dominate her."
"Art should communicate on multiple aesthetic levels," he said. "For me, there is the comprehension of subject matter telling a story, balanced by the aesthetic use of medium and the artist's personal sense of spatial narration where abstract space and forms define their own narrative and visual content. My hope is that this body of work will accomplish these goals."
The Art & Environment Gallery at SNRE opened in February 2012 to draw more attention to the influence of art in shaping our understanding of science and nature. It features local and national artists whose work examines the ways people interact with and understand the environment. The exhibits rotate about every eight weeks.
"This gallery will draw attention to the intersecting values, both artistically and scientifically, of art and the environment," said Sara Adlerstein, associate research scientist at SNRE, and gallery organizer and curator.
"Because of the way SNRE's curriculum embraces interdisciplinary fields, it is a natural place to host this gallery," she said. "We are bringing art to our school to strengthen our sense of community and to facilitate dialogue among students, faculty and staff in the spirit of green-building philosophy."