NCRB reopens with updated features after 16-month renovation
The University of Michigan's North Campus Recreation Building officially reopened Tuesday, adding infrastructure and architectural updates, natural lighting, air conditioning and other features to enhance students' and members' overall recreation experience.
Students, staff and community members were treated to a sneak peek Aug. 29 and 30 with an open house celebration of the 16-month renovation.
Longtime member, U-M alumnus and Ann Arbor resident Rocco DePietro says he is excited about using the revamped facility.
"I walked in here back in 1976 when it opened and I've been here through the whole cycle," he says.
"I play basketball with a group of about 20 guys three times a week, and the new floor on the court is great. I also like the new track. But the most notable thing is the natural lighting and the open, spacious feel."
Austen Thomas, a senior film and communications major, says she has worked at the NCRB since she was a freshman, and is looking forward to seeing members return this fall.
"It's great to have the NCRB open to the community again. I'm looking forward to the return of people who come on a regular basis, showing them the new openness and the improved accessibility," she says, adding that the facility is convenient for North Campus students living at Bursley Hall and Baits.
Freshman Blake Berent agrees.
"This looks great, very nice," he says. "I'll be coming here to work out every day."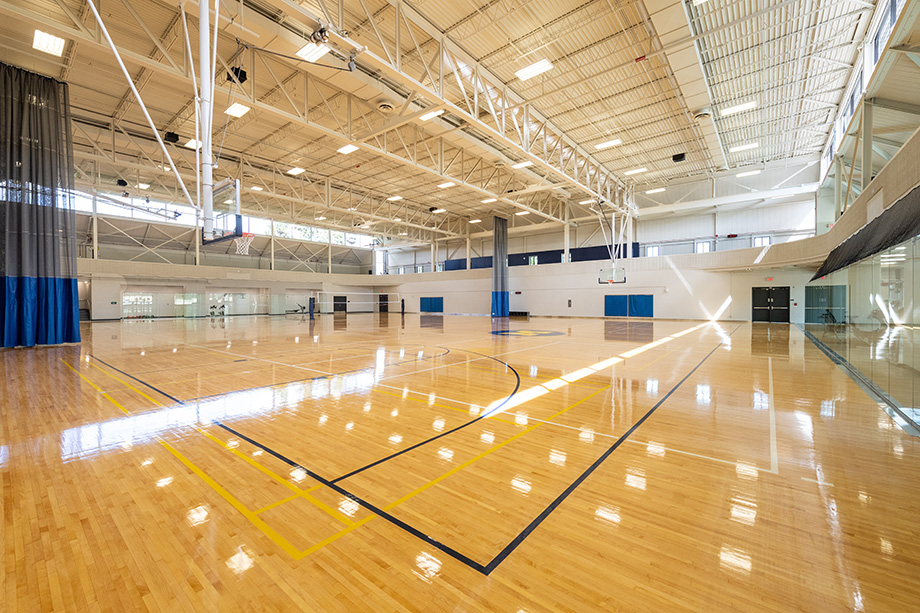 Updated gymnasium courts and fitness spaces are among the renovations at the North Campus Recreation Building. (Photo by Scott C. Soderberg, Michigan Photography)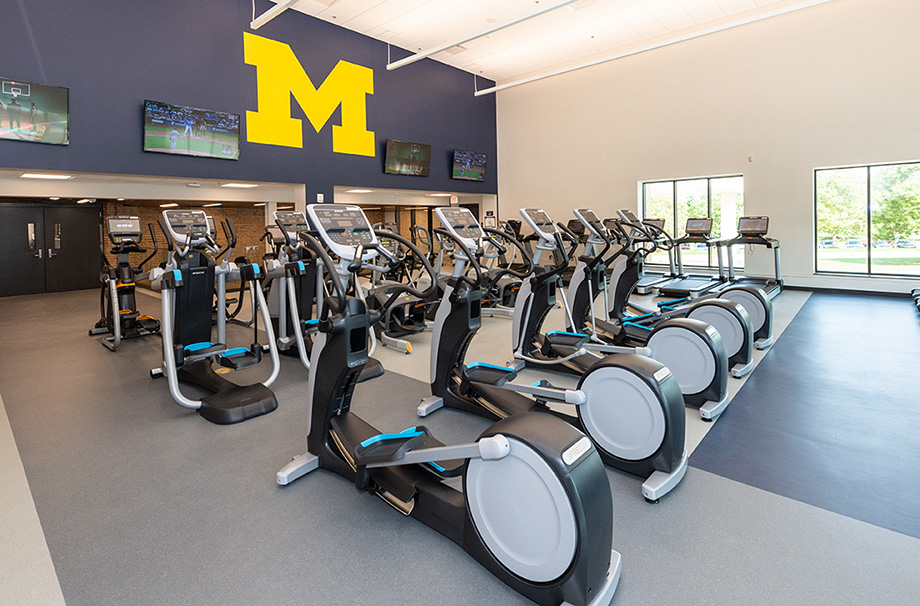 This is the second recent renovation to the university's recreational sports facilities. In 2016, the Intramural Sports Building — the first collegiate intramural sports building in America and one of the three recreation facilities on U of M's campus — underwent improvements to the 1928 historic structure.
"The NCRB renovation helps to balance the university's recreation offerings with the needs of its campus populations," says Mike Widen, director of recreational sports.
"Each of these renovations include the modernization of decades-past infrastructure, optimizing sustainability efforts, and transforming dark, small-windowed spaces into naturally lighted facilities with brightness and movement in order to enhance the overall campus recreational experience.
"One of the remarkable things about the NCRB is that it is just as popular with staff and faculty as it is with students. It's a mix of new users and members who have been coming for years, so we are thrilled that we can provide a revitalized, state-of-the-art facility for everyone."
The project repurposed existing, underutilized spaces to improve cardio, strength and group exercise areas, as well as enhancements to the building's entry. The renovated building also now features improved racquetball and squash courts, a sauna, and a resurfaced running track, while providing accessible locker rooms, a gender-inclusive locker room and restroom.
Highlights of the renovation include:
• A light-filled, welcoming entryway and lobby.
• Wide-open spaces for strength and stretching.
• New space for Group‑X classes.
• A refreshed pool area, pool infrastructure and on-deck sauna.
• Updated gymnasium courts flanked with functional fitness spaces.
• Racquetball and squash courts — featuring adjustable walls — that are at a competitive international level.
• Windows in the second-floor cardio space allowing for views of the wooded North Campus grounds.
An NCRB ribbon-cutting ceremony will take place Sept. 27 from 3:30 until 5 pm.
Throughout the planning process, feedback was received from several student organizations, current users and faculty and staff groups.
Integrated Design Solutions, in association with RDG Planning and Design, were the designers of the project.
The renovation cost $17.4 million with funding provided from the Student Life Student Fee for Facility Renewal, along with additional funding from University Central Equity, Athletics, Student Life, and Logistics, Transportation & Parking.