NASA leader Bolden urges graduates to 'dream big dreams'
Winter Commencement speaker Charles F. Bolden Jr. encouraged University of Michigan graduates gathered Sunday at Crisler Center to "go out and make a difference."
+ more commencement news
"Your generation will take what my generation started and make it your own," said Bolden, a retired major general in the U.S. Marines, the 12th administrator of NASA and first African-American to serve in that role.
Bolden said the next challenge for graduates will be to come up with new ideas.
"I'm a military man and an astronaut, but only one of those things was on my mind when I was your age," he said. "You are part of what is not yet formed."
"What you learned here is only the beginning of your story."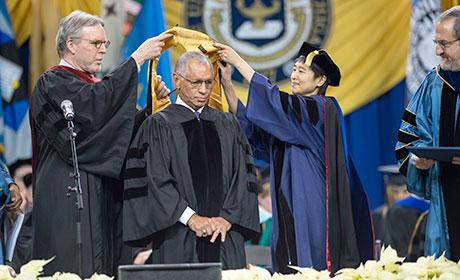 Charles Bolden Jr. receives his honorary doctorate hood from Scott Masten (left), chair of the Senate Advisory Committee on University Affairs, and Sally Oey, SACUA vice chair. (Photos by Eric Bronson, Michigan Photography)
All of the graduates are part of the space generation, said Bolden, who has excelled at the forefront of America's space program for more than three decades. "I like to tell people what NASA does is important to inspire the next generation, but really I believe you already have that spark."
No matter what field graduates choose to enter, Bolden offered simple advice for what lies ahead.
"Dream big dreams. Do what you want to do," he said. "Don't let opportunities pass you by."
"Go out and make a difference. That's our mission, and this is your moment."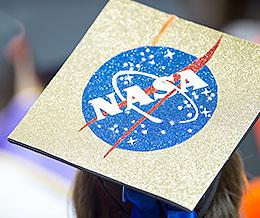 A graduate at Sunday's ceremony wore a mortarboard decorated to honor the commencement speaker, NASA Director Charles Bolden.
Bolden received an honorary Doctor of Science degree. Other honorary degree recipients Sunday were:
• Susanne Baer, Federal Constitutional Court of Germany justice and professor of public law and gender studies at Humboldt University of Berlin, Doctor of Laws.
• Ralph J. Cicerone, president of the National Academy of Sciences and one of the world's foremost atmospheric scientists, Doctor of Science.
• Dr. Hamilton O. Smith, distinguished professor at the J. Craig Venter Institute, adjunct professor of medicine at the University of California, San Diego School of Medicine, and winner of the 1978 Nobel Prize in medicine, Doctor of Science.
In his remarks to the graduates, President Mark Schlissel reflected upon his first year at U-M.
"What no one needed to tell me was that being a member of the University of Michigan family has special meaning, first and foremost because of the academic excellence of our university," he said.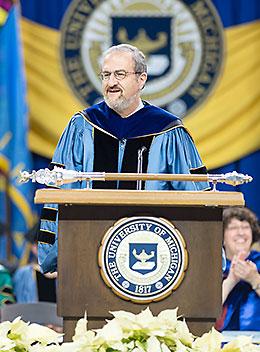 President Mark Schlissel addresses graduates during his first commencement at U-M.
Schlissel highlighted the stories of U-M graduates.
"All of these stories — these uniquely Michigan stories — give me a deep appreciation for the Michigan family and the academic excellence that continues to make Michigan one of the world's most outstanding and important public universities," he said.
"And that excellence, in no small measure, is because of the caliber of our graduates, because of you."
Schlissel then asked the graduates: "What will your Michigan stories be?"
He talked of a commencement address delivered 50 years ago by Thurgood Marshall, who went on to become the first African-American associate justice on the Supreme Court. In that speech, Schlissel said, Marshall touched on "a new era of human rights."
"Graduates, I hope you will seek out challenges equally as large in scope and importance. This is without a doubt the finest tradition of our great university."
Provost Martha E. Pollack asked the graduates how they planned to use their education.
"There are as many ways to challenge the present and enrich the future as there are graduates of this institution," Pollack said. "As your teachers for the past four years, we have seen your creativity, your commitment, and your ability to work hard in pursuit of your goals. We are eager to see how you will put your education and your talents to work in the world.
"Today, as you graduate, you join the ranks of literally hundreds of thousands of other University of Michigan alumni. I am confident that you are prepared to live up to the challenge of being a member of that group — that you are ready to stand among the leaders and best. Just remember to challenge yourself and challenge the present: you, and the world, will be the better for it."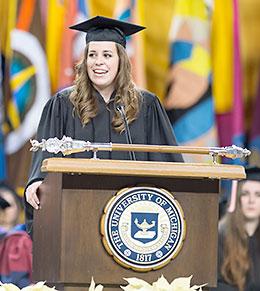 LSA graduate Macy Houghtlin delivers the student address.
Macy Houghtlin of Rochester Hills, Michigan, who received a Bachelor of Arts degree in Spanish from LSA, was the student speaker. She compared her time at U-M to "the best roller coaster this country has to offer."
"The ride is exhilarating. The freedom is like nothing you've ever known," she said.
"It all makes sense now... all the stories you've heard about this ride. It was by far the hardest, happiest, most stressful, most rewarding, most difficult, and most incredible experience you've ever had.
"Michigan, thank you for giving us the ride of a lifetime. Thank you for the wisdom we've gained through all the new faces, races and challenges we've experienced here. Thank you for the strength you've developed in us from all those impossible exams, relationships, and all-nighters. Thank you for giving us the courage to understand who we really are, what we believe in, what we have to offer to the world, and what we want to spend the rest of our lives doing."
As graduates and audience members left Crisler Center, many of them passed about three dozen demonstrators silently lying down in protest of recent actions by police that resulted in the deaths African Americans in New York, Cleveland and Ferguson, Missouri.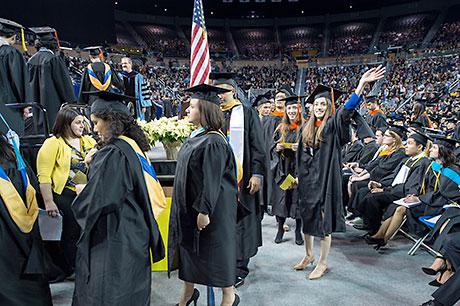 Graduate Samantha Basile waves to the crowd at Crisler Center while waiting in line to be congratulated by President Mark Schlissel.