Moped parking expanded on Central Campus
Faculty and staff who travel to campus on two wheels may have noticed that finding a parking spot is a bit easier this semester.
Enhancements to the moped parking program over the summer have provided nearly 60 additional spots in four locations on Central Campus.
+ more information
The program expansion is a collaborative effort between Logistics, Transportation and Parking; Architecture, Engineering and Construction; Custodial and Grounds Services and the Division of Public Safety and Security.
The university has added parking spots at: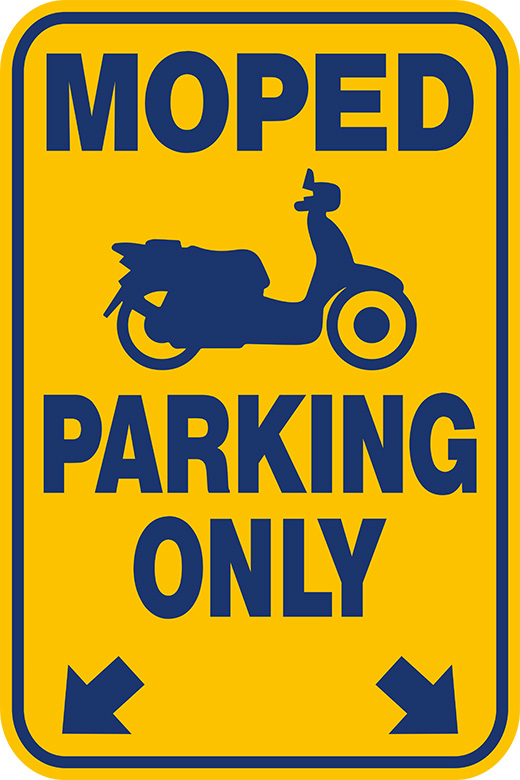 Signs such as this one will indicate parking spaces specified for mopeds.
• West Hall — 25 spaces.
• East Quad — 10 spaces.
• South Quad — 12 spaces.
• Couzens Hall — 12 spaces.
Two additional sites adding about 30 spaces are planned but temporarily on hold due to other university projects. These potential sites would be located near the Stephen M. Ross School of Business and the 1100 North University Ave. Building
"Mopeds have become an increasingly popular travel mode for students and staff," said Sue Gott, university planner. "The space additions are in response to feedback heard from members of our campus community. We felt that it was important to designate additional safe parking areas."
The university follows state and city regulations regarding the definition of mopeds, and limits parking in these designated moped locations for vehicles that fit the description. A moped is defined by state law as a motor vehicle with two or three wheels that has an engine that does not exceed 100 cc piston displacement, does not have a gearshift and has a top speed of 30 mph or less on a level surface.
New signage continues to go up, and all additional spaces will soon be clearly marked. For safety, riders need to walk their mopeds from the street to designated parking areas.
As a way to address the high demand for parking, as well as support better enforcement, Logistics, Transportation and Parking is considering permits for parking motorcycles and mopeds on campus in the future, said Steve Dolen, executive director of LTP.