Michigan Road Scholars Tour to connect U-M faculty, state
Tony Reames, assistant professor of environment and sustainability, is no stranger to community-based research while he focuses his studies on energy justice.
But most of his collaborations have been in southeast Michigan, and that's a big reason why he's embarking on the 2018 Michigan Road Scholars Tour, which rolls out of Ann Arbor today.
+ more information
Use the hashtag #MIRoadScholars on Twitter
This five-day trip will take 29 U-M faculty and staff from the Ann Arbor, Dearborn and Flint campuses through the state to learn about its economy, politics, culture, educational systems, health and social issues, history and geography.
"I'm working on a statewide research project so I really want to learn about the rest of the state when it comes to energy issues," Reames said. "I want to see other parts of the state outside the southeastern portion so I can understand people's perspectives on government policy and the environment."
The Michigan Road Scholars Tour, which began in 1999, is a chance for community, business, nonprofit and political leaders throughout the state to share their stories with U-M faculty and foster future collaboration, said Dana Sitzler, associate director for state outreach and a tour organizer.
"This tour shows our faculty how culturally, economically and geographically diverse the state is," Sitzler said. "We hope what they learn piques their interest for new research and projects in the future. It's also a great way for our faculty to see where their students come from."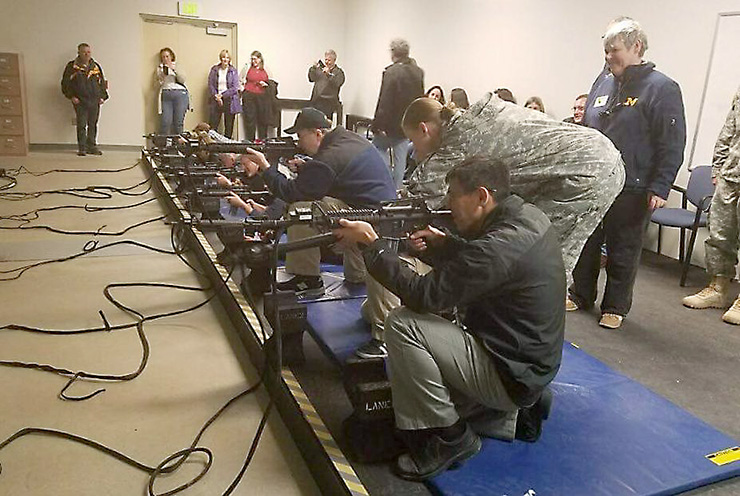 Members of the 2017 Michigan Road Scholars test their skills on the shooting simulator at the Camp Grayling military training facility in northern Michigan, which was one of the stops on last year's tour. (Photo by Ashwin Belle)
Jose Casas, assistant professor of theatre, said greater knowledge of the state and the issues it faces is crucial to his work in applied theater, which is why he wanted to join the tour. His current project is "FLINT," a play exploring the narratives, history, and water crisis in the city of Flint.
"Part of my responsibility is to get a better understanding of the communities in Michigan and how they interact and how they are interconnected — comparing them to similar situations while at the same time studying the similarities," he said. "As an artist, I am actively searching for those connections that tell the true and authentic stories being portrayed on stage."
This year's tour will visit Detroit, Midland, Mackinaw City, St. Ignace, Hessel, East Jordan, Traverse City, Grand Rapids and Lansing. The group will meet with large and small manufacturers, school districts, nonprofits, community organizations, Native American tribal leaders, city officials, economic development groups and state government. It also will visit the Sault Tribe Youth Facility and with the Kent County Human Trafficking Task Force.
"This is really about our faculty listening to and learning from people across our state," said Sitzler.
Casas said he sees the tour as part of a public university's responsibility to the community in which it exists.
"In U-M's case, that constitutes local, regional and state communities that all contribute to our institution," he said. "They contribute resources, students and faculty, and a shared investment in the welfare of the state.
"Some of the specific responsibilities include creating access for students to a quality education, contributing positively to the economy, creating spaces for dialogue, and being a resource for social activism and sociopolitical responsibility."