MHacks sparks national college hackathon movement
An expected 1,000 student hackers from across the country will be on North Campus on Friday for MHacks IV, a leading student-run hackathon that has helped to spawn what might be considered a new sport for tech-minded college students nationwide.
MHacks IV
WHERE: Bob and Betty Beyster Building, the Electrical Engineering and Computer Science Building, and the Herbert H. Dow Building on North Campus.
WHEN: Opening ceremonies start at 9 p.m. Friday. Projects will be on display, science-fair style, at 10 a.m. Sunday. Closing ceremonies and finalist demos are at 2 p.m. Sunday.
+ more information
• MHacks
• Major League Hacking
Hackathons — creative extravaganzas that require participants to team up, envision and then build a website, app or device in roughly 36 hours — are springing up at universities all over the U.S. Their numbers have grown tremendously in the past year, and experts credit MHacks for fueling the movement.
This upcoming event is the latest in a string of MHacks put on by U-M student groups Michigan Hackers and MPowered Entrepreneurship.
The first, in February 2013, set a national record with 550 people. The second, in September 2013 at Michigan Stadium, set a world record with 1,200. It ended with a call to action for hackers to go home and spread the culture at their own universities.
It appears the hackers listened.
Major League Hacking, the official student hackathon league, has been tracking these events for the past three semesters, or seasons, says co-founder Jonathan Gottfried. In the fall 2014 season, it expects to sanction more than 50 events in the United States, Canada and the United Kingdom. That's up from eight its first season in 2013.
"There was a period where MHacks was the largest student-run hackathon ever, and I think it had a huge impact," Gottfried said. "Before, there were a couple decent-sized events, but they were few and far between. MHacks has helped bring hackathons to a brand new audience. It's helped people realize that they aren't scary. They're something anyone can do."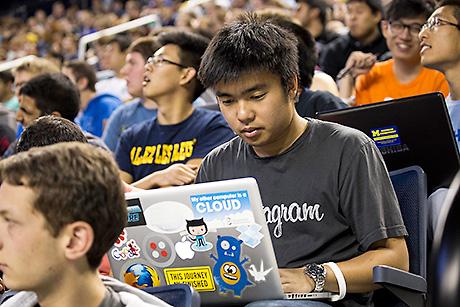 A hacker works from the stands of Crisler Center during the opening ceremony of the MHacks Hackathon 2013 last fall. (Photo by Joseph Xu, College of Engineering)
The fall 2014 season goes 12 weeks, so students can go to one every weekend and build something cool, he adds.
Previous MHacks winners include an app that enables real-time communication between people who speak different languages, a smart recycle bin that sorts trash based on the sound it makes when it hits the pivoting lid, and an app that projects a car's dashboard through a Google Glass and vibrates if the device's blink sensor detects the driver may be falling asleep.
While "hacking" can also refer to computer security breaches, in this sense it means "making, not breaking," explains Vikram Rajagopalan, MHacks director of user experience and a student in the School of Information.
With help from sponsors, MHacks will bus or fly students in from most of the 50 states. The event will be large, but organizers are no longer reaching for records. They're focusing instead on inspiring new coders and stoking the movement, Rajagopalan says.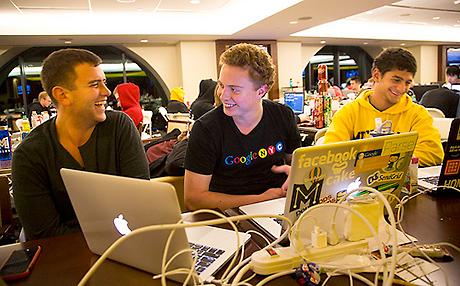 U-M computer science students William Irwin, Jesse Daugherty and Chris O'Neil work on their video application "Mash It" during the MHacks Hackathon at the Big House last September. (Photo by Joseph Xu, Michigan Engineering)
"MHacks IV puts the focus back on learning by doing this hackathon season," he said. "We give our hackers all of the resources, support and tools they need not only to build something amazing, but something that changes the way we look at a problem in our communities."
High-profile speakers include: Reddit co-founder and YCombinator partner Alexis Ohanian; Grace Choi, CEO of Mink, a company that has found a way to 3-D print makeup; and John Maeda, senior design partner with KPCB and previously a professor at the MIT media lab and president of the Rhode Island School of Design.
The speakers will share their stories and serve as mentors who will roam MHacks to help students develop their ideas. In all, the MHacks organizers expect to field more than 100 mentors to help hackers build their projects.