Media specialist runs award show for bad movies
The Emmys, Oscars and the MTV Movie awards highlight the best of film during any given year. But who honors the ones that tank?
Matthew Quirk, a multimedia specialist at the Department of History of Art's Visual Resources Collections, uses his media background to help run a show on campus called the Smithee Awards — an event that focuses on the worst of the worst when it comes to film.
Founded by Bryan Cassidy and Greg Pearson at U-M in 1992, the Smithee Awards are named after the pseudonym "Alan Smithee" that film directors used to use when they did not want their name attached to a project. Over the years it has grown from an intimate get-together of friends to multiple shows around the country throughout the year.
The Smithee Awards honor films in 19 categories, including Most Ludicrous Premise, Stupidest-Looking Monster, Inane Dialogue, Acting Appropriately Stupid, Worst Special Effect and Crummiest Ending.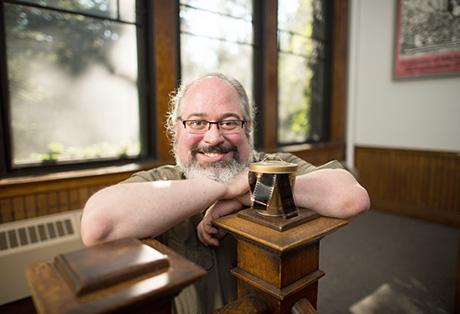 Matthew Quirk, a multimedia specialist at the History of Art Visual Resources collections, uses his media background to help run the Smithee Awards. (Photo by Austin Thomason, Michigan Photography)
Quirk joined the team behind the event in the event's second year, brought in by video editor Kevin Hogan. He says he was drawn to the awards by "this old show called 'Dark Shadows.' They shot it live-to-tape, so they did everything in maybe two takes and there were a lot of problems. For instance, someone would flub a line or you'd see the microphone dip into a shot and that all went on air, but they could tell this amazingly involving story, so incredibly cheaply."
His original job with the event was as the graphic designer. "I do the video editing and digital transfer, which is one of the things I did at Instructional Support Services here on campus." Now, he also presents at the show on campus, since one of the original founders and presenters, Bryan Cassidy, has moved away.
Quirk enjoys attending the events, even for the predictable parts.
"There are always some clips that get into the show that we've seen dozens of times that we know the audience is just going to cringe at. So, it's fun to look out and not watch the screen, but watch everyone react when something happens that is hard to watch," he says.
The weekly Spotlight features faculty and staff members at the university. To nominate a candidate, email the Record staff at urecord@umich.edu.
Selecting bad films for the awards is enjoyable in itself, Quirk says.
"Entertainment and education are the same in some way because you're educated by the things that entertain you. Some movies failed so badly that we couldn't even find a good example of what not to do in them because they just failed everything," he says. "The Smithees in some ways is an educational way of showing people 'If you're going to make a movie, you can do it cheap. Just don't make these mistakes.'"
Quirk's work in digitizing clips and video editing for the awards has carried over well into his job at U-M. Most recently he has been involved in a project with the Kelsey Museum of Archaeology.
"The Kelsey Museum has a huge archive of all of their objects they have in storage that were photographed in the 1970s. That film is the only visual record they have of it and it's never been digitally transferred, so we're scanning roughly 10,000 rolls of 35 mm film from the 1970s," he said. "At a good rate, we can get around eight rolls a day so we're going to be working on this for a while."