Loss of leaves on North Campus trees caused by caterpillars
The largest gypsy moth caterpillar outbreak in southeast Michigan in 20 years is causing widespread tree defoliation on North Campus. Areas most affected include Northwoods II and the woodlot between Hubbard Road and Hayward Sreet.
The lack of foliage stresses trees but is not lethal to healthy trees. After the caterpillars form a cocoon in early July, the trees will likely produce a second set of leaves.
Gypsy moth caterpillars are typically held in check by a naturally occurring fungus, Entomophaga maimaiga, which appears to have been weakened by spring droughts in 2016 and 2017.
U-M Grounds Services is using various methods to control the caterpillars, including burlap traps and putting a sticky substance called tanglefoot on the trunks to prevent caterpillars from climbing up to feed on leaves.
In accordance with U-M's Sustainable Land Management Guidelines, Grounds Services is not using insecticide, which would kill not only the gypsy moth caterpillars but also beneficial insects such as bees, butterflies and ants.
Grounds Services will monitor the health of all affected trees this summer and fall and take appropriate action as needed.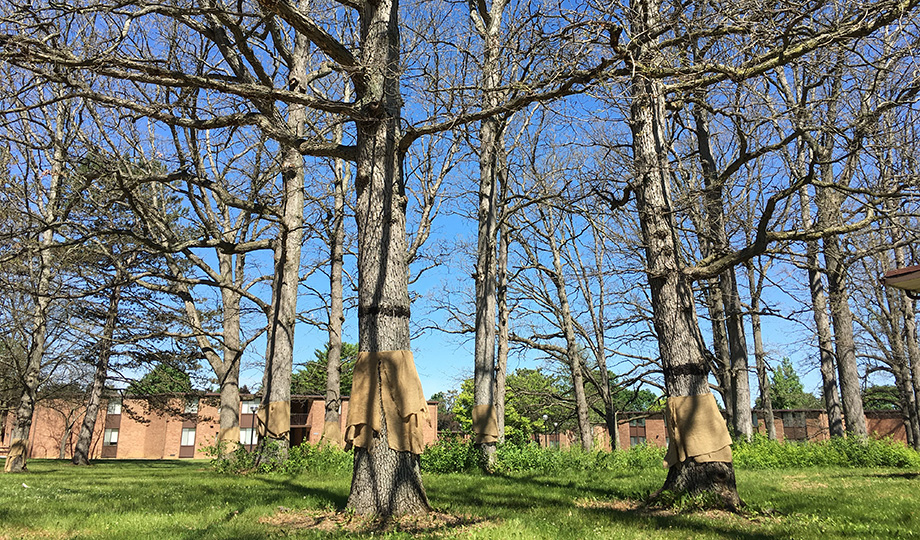 Defoliated oak trees in Northwoods along Hubbard Road. (Photo by Rob Doletzky)