Kelsey Museum exhibit highlights beauty, importance of failure
As an archaeologist, Carla Sinopoli has long been interested in the study of craft production — both the technologies and the social and political dimensions of the making of objects of everyday life.
+ more information
Though her research has primarily focused on ceramics in Asia, she has also studied a range of other crafts while doing fieldwork in Southern India, including textile production, metallurgy, stone-working, sculpting, and even performance.
"Archaeologists most often recover finished products of craft producers — albeit often in fragments," said Sinopoli, professor of anthropology and a curator at the Museum of Anthropological Archaeology.
"Some of my most exciting discoveries have been of objects that failed in production — stone carvings that cracked and broke before completion, ceramic vessels that warped in the kiln and were never used."
She says that failures of past civilizations give researchers insight on production processes and standards, and ancient technologies and traditions.
Sinopoli explores these ideas as curator of "Less Than Perfect," a new exhibition now on view at the Kelsey Museum of Archaeology. Spanning more than 2,000 years and four continents, each of the featured objects celebrate failure and the lessons it teaches.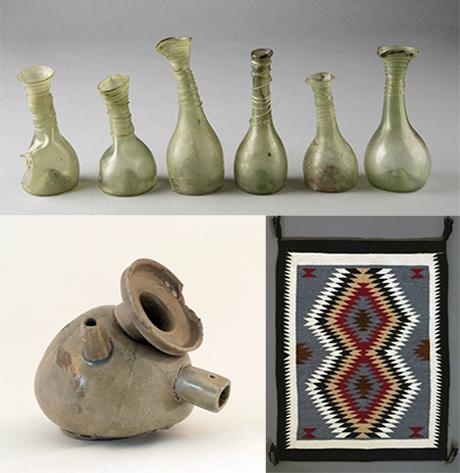 Clockwise, from top: misshapen Egyptian glass flasks from 400-700 C.E.; Navajo weaving; warped Chinese stoneware from 10th century-13th century C.E. (Photos courtesy of the U-M Museum of Art and Museum of Anthropological Archaeology)
The exhibition features objects from three different cultural collections at U-M —  the Kelsey Museum, Museum of Art and Museum of Anthropological Archaeology — and is organized around three themes.
The first theme, "Failed Perfection," presents archaeological objects that failed during production in order to explore how researchers use them to study ancient technologies.
The second, "Deliberate Imperfection," features beautiful and finely crafted objects whose makers intentionally introduced asymmetries or other imperfections into their products — and considers why artists choose to make imperfect things.
"Restoring Perfection" highlights artifacts that were repaired in antiquity by people who strove to restore usefulness and beauty to broken or damaged objects.
"I particularly enjoy this exhibition because it starts an important conversation with our students," Sinopoli said. "We often forget about the important role that failure plays in our successes — it's a really important part of growing and learning."
"Less Than Perfect" is on view at the Kelsey Museum of Archaeology until Jan. 8, 2017.