ISR addition is latest U-M project to win LEED Gold Certification
The Thompson Street addition to the Institute for Social Research has received LEED Gold Certification from the U.S. Green Building Council.
LEED, or Leadership in Environmental and Energy Design, is a green building certification program that recognizes best-in-class building strategies and practices.

"This certification puts the ISR addition in a select group of U-M buildings awarded LEED Gold status for their outstanding energy-efficient designs," said Robert Marans, ISR researcher and professor emeritus of architecture who helped develop the project.
Other U-M projects that have received LEED Gold certification include the Dana Building, Law School Academic Building (South Hall), Crisler Center expansion and the Michigan Memorial Phoenix Laboratory addition.
The ISR project, funded by the National Institutes of Health, U-M and ISR, was completed in 2014.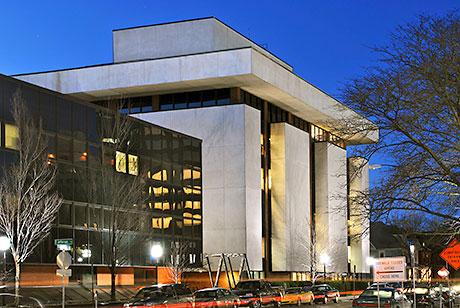 The ISR building shines against the evening sky as viewed from Thompson Street. (Photo by Philip Dattilo)
The use of local building materials contributed to the ISR project's high LEED ratings, said Jody Reynolds, ISR operations and planning director.
"Nearly 37 percent of the total material value was made, or extracted, from within 500 miles," she said. "That is well over the minimum LEED guideline of 10 percent."
In addition, the ISR project restored or protected 87 percent of the natural features of the site outside of the building footprint that were disturbed during construction.
The creation of a green roof, planted with seven varieties of native plants, is helping to moderate heating and cooling demands on an ongoing basis.
 As part of its commitment to sustainability, the project team selected low-VOC paints, flooring, adhesives and furniture, Reynolds said.
VOCs (volatile organic compounds) are solvents emitted by paint, adhesives, cleaning supplies and even some home furnishings that can cause acute symptoms, including headaches and dizziness.
In addition, 56 percent of the construction waste generated on the site was redirected to recycling locations rather than landfills.
"This achievement is the result of the hard work of many," said ISR Director James Jackson, who thanked the Office of Architecture, Engineering and Construction; Ann Arbor-based architecture and design firm Lord, Aeck, Sargent; construction contractor Barton Malow Co.
He also thanked Reynolds, former ISR assistant director Anna Schork, and ISR faculty and staff committee members who carried a commitment to sustainability through their many decisions.