Installation explores the physical properties of sound
Don't Miss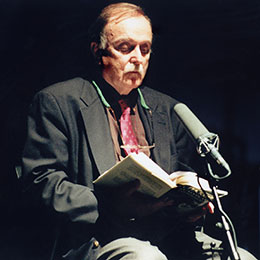 Alvin Lucier
"Alvin Lucier: I am sitting in a room" is a sound installation presented through May 22 at the University of Michigan Museum of Art.
The sound installation by American composer Alvin Lucier, first performed in 1969, is re-created for the first time as an installation in UMMA's Irving Stenn, Jr. Family Gallery. Lucier is heard reading a text, playing the recording back into a room, and then re-recording it.
The re-recorded material is then played back and re-recorded multiple times, until eventually the words become unintelligible. The text being read by the artist begins "I am sitting in a room, different from the one you are in now. I am recording the sound of my speaking voice."
Lucier's work explores the physical properties of sound — the resonance of spaces and the transmission of sound through physical media. The work fills the gallery and reacts to its acoustic properties, transforming the space with sound.
Lead support for the exhibition is provided by the Office of the Provost and the Herbert W. and Susan L. Johe Endowment.