History professor studies political activism, stays involved
In December 1971, a rally to free leftist poet John Sinclair brought musician John Lennon and 15,000 protestors to Crisler Arena. Freshman reporter Howard Brick was in the press section, front and center.
Brick, now the Louis Evans Professor of History in LSA, attended U-M and began writing for The Michigan Daily with the goal of becoming a newspaper reporter.
Though his career path took a turn, as a history professor Brick says he remains "interested in helping to document the history and heritage of political movements, and the idea that the radical left might yet have a future in the United States."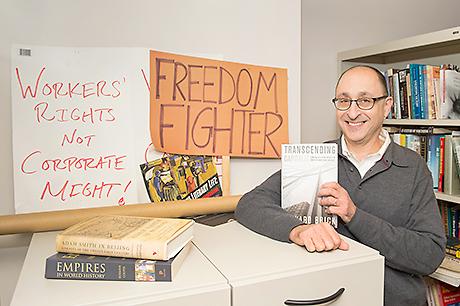 Brick, the Louis Evans Professor of History in LSA, diverged from his original goal of becoming a newspaper reporter, but says he remains "interested in helping to document the history and heritage of political movements." (Photo by Scott C. Soderberg, Michigan Photography)
Brick's other teaching and research interests include the history of the social sciences, the history of labor, and American intellectual and cultural history.
On that winter night at the "Free John Sinclair" rally, thousands, including Lennon and Beat poet Allen Ginsberg, gathered to demand that the government drop drug charges against the imprisoned Sinclair. Brick was close enough to the stage to see Lennon was nervous.
"It was very much a thrill," he says. "Ann Arbor was electrified. I sat on the ground in the Crisler garage next to John and Yoko's limo writing my story that night."
In his years as an English major at U-M, Brick's experience with political movements in Ann Arbor didn't stop at that gig.
"The campus political life was vibrant," he says. Brick, who identifies politically as a socialist, volunteered his own time to causes from the Young Socialists Alliance, to antiracism and anti-nuclear power agitation movements.
After finishing his Bachelor of Arts in English language and literature in 1975, Brick stayed at U-M to pursue his interests in literature, politics and American culture.
The weekly Spotlight features faculty and staff members at the university. To nominate a candidate, email the Record staff at urecord@umich.edu.
Finishing two advanced degrees from U-M — a Master of Arts and Ph.D. in American culture — led Brick to teaching positions at the University of Chicago, the University of Oregon, Washington University in St. Louis, and then back to U-M in 2009. "We took a long, circuitous route around the country," he laughs.
Wherever Brick went, he didn't leave his interest in activism far behind.
"Many of the most interesting writers in the social sciences actually are motivated by keen concerns about profound issues of human oppression and resistance and emancipation. That's how I've come to frame my work."
At U-M, Brick says he has always found a "lively" intellectual community. "It keeps you on your toes."
Q & A
What moment in the classroom stands out as the most memorable?
In a survey of U.S. history class around 1990, a Native American student at the University of Oregon told me he was offended when I inadvertently left a slide showing the dead at Wounded Knee (1890) on the screen for a long time. I was ashamed. He taught me then that the past is "not even past" for many of us, in many different ways. The student's complaint educated me.
What can't you live without?
Debra M. Schwartz (spouse), A.B. 1975 A.M. 1980.
What is your favorite spot on campus?
The annual Collage concert in Hill Auditorium.
What inspires you?
The sense you get around here from your colleagues and students — that it's important to think about these big issues.
What are you currently reading?
"The Cambridge History of Capitalism: Volume I, The Rise of Capitalism from Ancient Origins to 1848," edited by Larry Neal and Jeffrey G. Williamson.
Who had the greatest influence on your career path?
Alan Wald and John O. King III.