Highlights from MSTAFF200
Photo gallery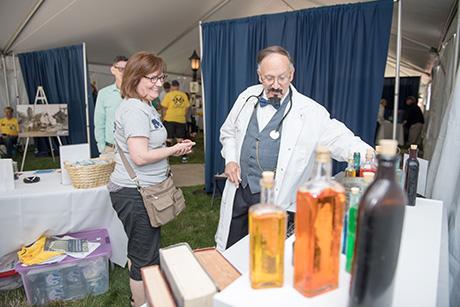 Above: Ira Cohen, adjunct clinical associate professor of pharmacy, talks with Nancy Waters, interactive communications project manager for the Office of University Development, at one of the exhibits showcasing staff contributions over the last two centuries. Below: The food tents were busy all day as festival-goers enjoyed a variety of tasty fare. View a gallery of images from throughout the day. (Photos by Eric Bronson, Michigan Photography)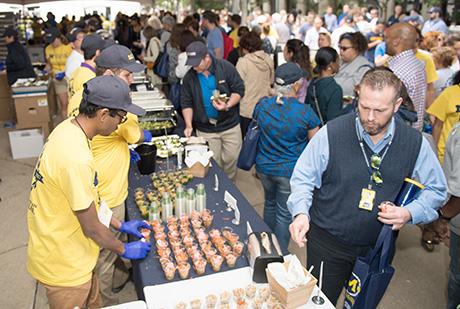 An early look at artwork honoring staff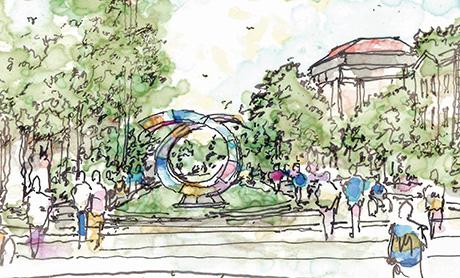 An artist's rendering of "Arriving Home," a public sculpture honoring the contributions of U-M staff. (Drawing by Neil Martin)
At the Bicentennial MSTAFF200 event Tuesday, President Mark Schlissel announced a new, permanent public art installation that will honor the contributions of U-M staff over the life of the university.
The art, titled "Arriving Home," will be installed between the C.C. Little and Dana Samuel Trask buildings on Central Campus. It was created by Dennis Oppenheim, a renowned American artist and Guggenheim Fellow.
"We wanted to commemorate the amazing work of the past, but also recognize that all of our future goals for Michigan's third century rely on the dedication and intellect of our talented staff. These accomplishments and ambitions extend across our entire mission as a public university," Schlissel said.
"Arriving Home" will be officially installed sometime in the fall.
As part of the bicentennial, the Office of the President and Voices of the Staff are sponsoring the public art project, which received seed funding from alumnus and longtime staff member Jagdish Janveja.
Read more about Janveja's donation.
Making a memento
Made by staff to honor staff, the "Bicentennial Block" was created in collaboration between Construction Services and University Human Resources. This video walks through production of the 10,000 blocks and bases that were produced by U-M staff and given to staff on Tuesday during the MSTAFF200 celebration. Read more about the bicentennial memento.