High tech tools to aid Solar Car Team in race across Australia
The nation's top solar car racing team from the University of Michigan will hit the starting line this weekend for the World Solar Challenge — an 1,800-mile journey through the Australian Outback.
+ more information
They'll be driving a sleek one-seater they designed and built themselves. Aurum, named after the Latin word for gold, is fast, aerodynamic and carries six square meters of solar cells coated with a special finish that helps them capture more sunlight.
This year marks the team's 25th anniversary. And while the students who will be trekking through the desert Down Under will bring along their customary determination and first-place dreams, this year their hope is even more high tech.
Through a partnership with IBM Research, the team will utilize unique solar energy forecasting technology that's expected to improve its weather predictions and give a better sense of how much power the team can expect from the sun. The real-time energy forecasts will help the students set strategy about how fast to drive and when to stop and recharge.
"It's essentially an automated cloud-tracking system that we think should give us an edge in terms of figuring out where the clouds will be and trying to avoid them," said Leda Daehler, the team's head strategist and a computer science and engineering junior.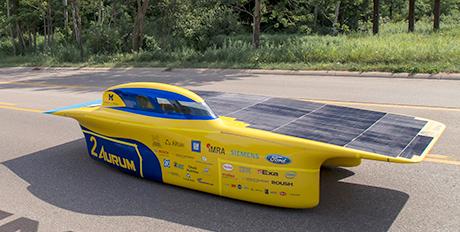 The U-M solar car is named Aurum, after the Latin word for gold, and it carries six square meters of solar cells coated with a special finish that helps them capture more sunlight. (Photo courtesy of U-M Solar Car Team)
Michigan's team has always relied on sophisticated meteorology tactics. Specialists check the radar and run forecasting models starting several days before races. Instruments that measure wind speed and solar radiation are mounted to the top of one of the vehicles in the team's caravan. And a designated weather vehicle drives at least 30 minutes ahead to relay back any surprises.
But for hyper-local cloud tracking, the students would stick their heads out the windows. They'd essentially guess which direction the clouds were headed and whether the solar car should speed up or slow down to get itself back in the sun. IBM's tech, which was originally developed for electric utilities, eliminates a lot of the guesswork.
It's a two-pronged approach. For short-range predictions, the system relies on a roof-mounted sky camera that measures how much sunlight is reaching it. It's connected to computers that can analyze and predict how the solar radiation might change in the next 15 minutes. The long-term component involves meshing multiple weather models and historical weather information for specific locations.
"We are excited to explore how cognitive computing can augment the capabilities of this extraordinary group of students at the University of Michigan to compete in the World Solar Challenge," said Dario Gil, vice president of science and technology at IBM Research.
"We are using physical analytics to combine our understanding of the physical world with two of the most exciting fields in computer science — data analytics and machine learning — which will lead to new innovations that can transform industries."
The weather, and the team's ability to forecast it and respond to it, can play a major role in the race outcome, team members say.
 "During the race, it's all about choosing the fastest way to make it to the finish line. If you know that further down the route you are going to be experiencing clouds, it could be advantageous to drive slower under the sun — saving battery for when you can't rely on the sun," said Jeff Cwagenberg, team meteorologist and a recent graduate from the Department of Climate and Space Science and Engineering.
The 2015 Bridgestone World Solar Challenge starts at 8 a.m. Sunday in Darwin in Australia's Northern Territory. That's 6:30 p.m. EDT Saturday in the U.S. The race ends in Adelaide, South Australia.
While the race is officially over Oct. 25, the U-M team typically finishes in four or five days. Several U-M staff members will travel with the team and post coverage.
The U-M Solar Car Team consists of more than 100 students from across the university's campus. The team boasts five consecutive national championships, eight overall national titles, five third-place World Solar Challenge finishes and one additional international championship.