First female faculty member
Old school: U-M in History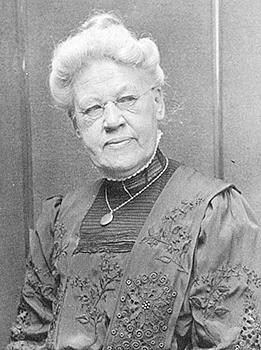 Dr. Eliza M. Mosher graduated from U-M in 1875 and later became dean of women and professor of hygiene.
This week in history (120 years ago)
Dr. Eliza M. Mosher, an 1875 graduate of U-M's medical department, became the university's first female faculty member on Oct. 1, 1896, when she became dean of women and professor of hygiene. In her educational work, Mosher had always been interested in the fields of health maintenance and physical education and fitness, and in private research she investigated medical aspects of posture. She devised an orthopedically sound school desk and chair for children and was a founder of the American Posture League. From 1905-28 she was senior editor of the "Medical Women's Journal." In 1912 she published "Health and Happiness: A Message to Girls." She retained her posts at U-M, as well as those of director of physical education and resident physician to women students, until ill health forced her resignation in 1902. For the rest of her life she practiced medicine privately in Brooklyn, New York, and lectured at various institutions.
— From Encyclopedia Britannica and The Michigan Alumnus