Film scholar devotes career to music
One of the flagship scholars of her field, Caryl Flinn has devoted her career to studying film music.
"I was always taken by the difficulty in describing the powerful effect of background music and how it enhances your experience of a film," she said.
Flinn, professor of screen arts and cultures and women's studies, listened to musicals with her mother throughout her childhood. "We listened to all the original soundtracks together," she said. "She even got me Julie Andrews's autograph."
After graduating from Trinity College in Hartford, Connecticut, she worked in a Boston bookstore before deciding to attend graduate school at the University of Iowa.
At first, she felt out of place. "I panicked when I saw the soy prices every day on the news," she said. However, she soon "fell completely in love with the Midwest," and years later when she got a chance to return to the region with her position at U-M, Flinn said, "I was overjoyed."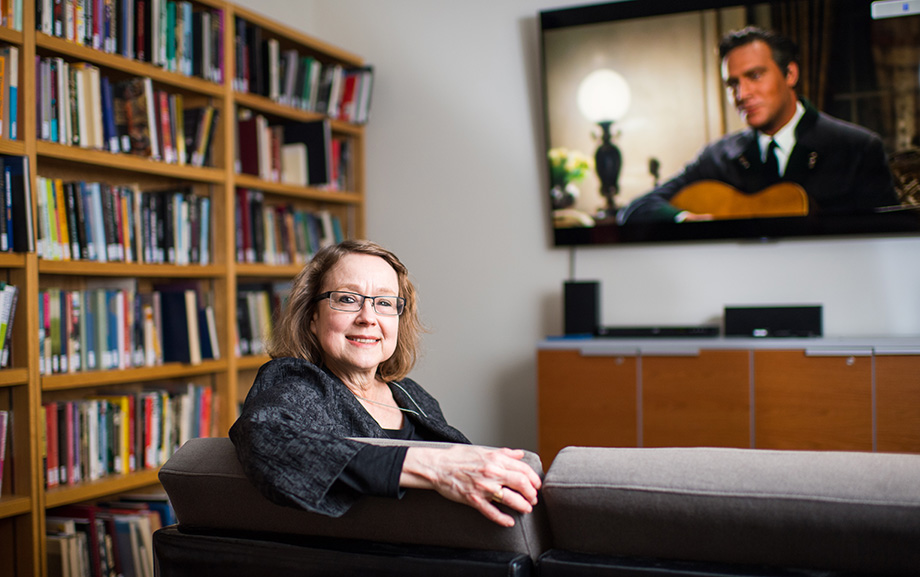 Caryl Flinn is a professor of screen arts an cultures, and women's studies in LSA. (Photo by Eric Bronson, Michigan Photography)
Early in her career, cinema scholars and members of the film industry both tended to defer to visual aspects of film, maintaining that no one paid attention to the soundtrack — or needed to. Flinn recalled an anecdote: "One director allegedly said that since his movie was set in France, the soundtrack should have lots of French horns."
Flinn was one of the first scholars to critically analyze music in film. After publishing a book on neoromantic music in the Hollywood studio era, she turned to music in the "New German Cinema" of the 1960s to '80s, unearthing examples in which music can offer explicit critical commentary.
For instance, a Nazi propaganda song is performed on children's instruments in one film to offset any nostalgia it might have provoked in contemporary listeners; some directors turned to damaged recordings of nationalist titans like Beethoven or Wagner to make their music unable to serve "the huge uniting force people might want it to serve."
Her most recent work follows the soundtrack of "Moonlight," a critically acclaimed film that won the Oscar and Golden Globe Award in 2017. It is a coming-of-age story of a young, gay black man growing up in Miami whose main musical theme is a beautiful piano piece that modulates between major and minor modes and that uses incomplete chords — both paralleling the character's own unsteadiness.
"Struggling with his sexuality, growing up abused and bullied, acceptance of his own masculinity — it's all there in the music," Flinn said.
The weekly Spotlight features faculty and staff members at the university. To nominate a candidate, email the Record staff at urecord@umich.edu.
The theme also is striking, Flinn said, for straying from conventional sounds linked to African-American masculinity. While rap and hip-hop are present in the film, they only play from radios. So the featured music reflects the character's distance from those orthodox standards of African-American masculinity
Her newest project moves away from film music to examine kitsch as an aesthetic style. "No matter who's talking about it, kitsch is always dirty or bad," she said. She plans to mine historical details that help enforce the stubborn idea that kitsch is always negative.
Whether it be, in her case, Broadway musicals, film music or kitsch, Flinn asserts the importance of studying media.
"We're in such a heavily mediatized environment that if you lack acoustic and visual literacy, you miss out on how culture organizes meanings, effects and feelings," she said.
Q & A
What moment in the classroom stands out as the most memorable?
Whenever you give students new ways of seeing — and of listening.
What can't you live without?
Movies.
Where is your favorite spot on campus?
I like getting lost in the buildings of North Campus.
What inspires you?
Personal/professional integrity.
What are you currently reading?
John Lewis' "March," the animated history of the civil rights movement.