Eye technician gives back with therapy dogs
Gretchen Ford understands the importance of listening to and supporting patients, whether she's working at the Kellogg Eye Center as a certified ophthalmic technician or volunteering at medical facilities with her therapy dog, Charlie.
"Patients will come to us with very serious health concerns," Ford says. "Someone losing their vision and their independence doesn't want to feel like a number. I ask them about their families, their grandkids. I'm good at what I do, from the medical side, but one of my best contributions to the exam is that I listen to them."
Ford prepares patients to be seen by the doctors at the center. She walks patients through their medical exams, including recording medical history, checking vision and pupils, measuring pressure in the eye, and verifying prescriptions. She then takes them through dilation, when the physician takes over. "Any day can bring any kind of concern, issue or dilemma," says Ford, "and our physicians are the best of the best. It's been really a pleasure to be surrounded by them and to be constantly expanding my education."
Though she's now worked in the field for more than 30 years, Ford didn't begin in ophthalmology. She studied accounting in college and worked as a bookkeeper for several years. "I often think, 'How did I work on numbers all the time, in a small area, by myself?' I don't think I could ever do that again. I have to be out there, with people."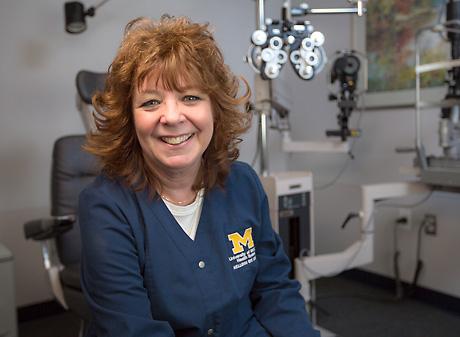 Gretchen Ford is a certified ophthalmic technician at the Kellogg Eye Center and volunteers at medical facilities with her therapy dog. (Photo by Austin Thomason, Michigan Photography)
The people are her favorite part of her day job, and Ford thinks her golden retriever Charlie feels the same way about his work as a therapy dog. "He's an old soul, he feels everything and loves everyone. He makes you feel like you're the only person in the universe."
Charlie, who is named after Ford's father-in-law ("I didn't have kids, so I said, 'Here's your grandson!'" says Ford, laughing), is particularly well-suited to therapy work. After completing a training program, Ford and Charlie started volunteering at local medical facilities and nursing homes. Once a month, patients and residents of the homes are able to interact with Charlie.
Ford remembers one particular visit. "We were at the home, and there was a gentleman who had suffered a stroke and couldn't speak who was just being admitted. He was in his room with his wife," says Ford. "Charlie and I entered his room and asked if he'd like a visit, and his wife said 'No, this is our first day, we just need some time together.'" Ford says that as they were leaving, the man seemed very agitated, and his wife asked Ford if she and Charlie would stay.
"He started petting Charlie and then tried to take his leash. Charlie took the leash out of my hand, walked around to the man's left side, where he had mobility, and gave it to him. Off they went. Charlie measured the man's pace, turned around with him, and when they came back, his wife said, 'He's smiling! My husband hasn't smiled in months.'"
The next month, Charlie and Ford headed for the man's room, but did not find him there. A nurse handed Ford an envelope. "It was a note from the man's wife saying, 'Thank Charlie for making my husband's last walk so memorable.'"
Ford, who also trains dogs in obedience, including Charlie and her other golden retriever Toby, plans to continue volunteering. "My husband always asks how it went and I say, 'No matter how many ribbons or titles Charlie's won, I think the therapy work is the best thing ever. He just gets it."
Postscript: Ford says Toby, still in training, soon will succeed Charlie as a therapy dog. "Charlie sadly passed away one month ago after 12 years of loving, faithful, companionship and he is missed terribly," she reports.