Emergency Alerts now on Michigan App; test planned for Friday
The UM Emergency Alert notifications for the Ann Arbor campus have been added to the University of Michigan App. The semester test of the alert system, including via the Michigan App, is expected to be conducted Friday.
+ more information
"We are excited to offer this new communication platform for our mass notification system," said Andy Burchfield, director of Emergency Management in the Division of Public Safety and Security. DPSS worked with Information and Technology Services to develop the alerts functionality in the Michigan App.
"Notification via the app will add to the array of communication methods already in place when we activate an emergency alert, including text, voice and emails.  But now people who aren't affiliated with the university, such as contractors working on campus and parents, will be able to download the app and receive these urgent notifications."
The app notifications, which are short messages pushed to app-enabled devices such as cell phones and iPads, will alert the recipients of the alert activation.
The UM Emergency Alert system is intended to notify the campus community of an active, major campus emergency such as an active shooter, severe weather warnings, or emergency reduction in operations. Additional information about the specific emergency will be posted on the DPSS website as it becomes available.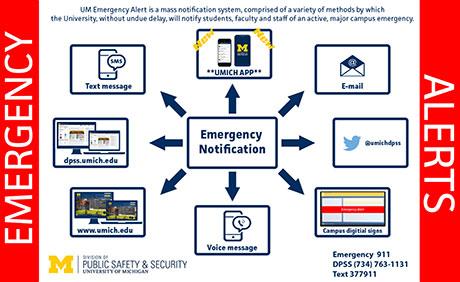 View a larger version of this image.
To receive the UM Emergency Alerts using the app, download the Michigan App from the Apple App Store or Google Play and open the app once. Push notifications for the Michigan App must be enabled in your device settings.
"Students have been using the app to receive grade notifications," said Burchfield.  "Therefore they won't need to do anything else to receive the alerts."
A full-system test of the UM Emergency Alert system is scheduled for Friday around noon. 
In addition to the Michigan App, UM Emergency Alerts are sent via text and voice messages for those who have registered with Wolverine Access; email to all students, faculty and staff; U-M Gateway and DPSS websites; interior building digital signs; Twitter; and RSS feeds.