Old school: U-M in History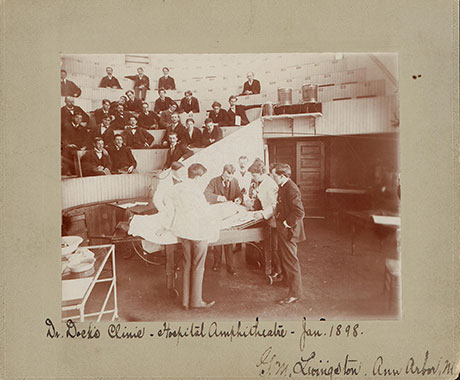 Dr. George Dock, with percussion hammer, demonstrates proper procedure in an amphitheater-style classroom in 1898, in the Medical School.
In the eyes of his colleagues, Dr. George Dock was without peer. He was the first full-time professor of medicine in the United States. His mentor and friend William Osler, the founding figure of modern medical education in North America, called Dock "a man who knows more about clinical procedures than anyone in the United States." Years before technology transformed the methods of diagnosis, Dock was regarded as a superb diagnostician. And he was said to be the best clinical pathologist in the country. Yet for all Dock's fame as a practitioner, he made an even greater impact as a teacher.
— Courtesy of the U-M Heritage Project, heritage.umich.edu/stories