Don't Miss: UMMA offers special Fridays After 5 event
Ann Arbor Art Fair goers are encouraged to take a break and cool off at the U-M Museum of Art, during an Art Fair edition of Fridays After 5. It is presented from 5-8 p.m. July 17.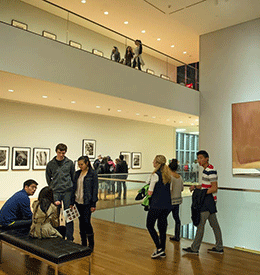 The popular Fridays After 5 events return July 17. (Photo courtesy of UMMA.)
UMMA's galleries and exhibitions will remain open past the traditional 5 p.m. closing time, until 8 p.m. There will also be a free screening at 5:30 p.m. in UMMA's Helmut Stern Auditorium of the 1996 film "Basquiat." It is directed by painter Julian Schnabel.
In connection to the film showing, the public is invited to explore the exhibit "Julian Schnabel" in the UMMA's Taubman Galleries I & II. It features art from the mid-1970s to the present. Schnabel is celebrated for a visual language that brings together unexpected materials and radically unconventional techniques.
Fridays After 5 events are free and open to the public and supported by Comerica Bank and the Community Foundation of Southeast Michigan.
The Brant Foundation Art Study Center organized the Schnabel exhibit. It originated at the Brant Foundation Art Study Center in Greenwich, Connecticut. Lead support for UMMA's installation is provided by Joseph and Annette Allen, the Office of the Provost, the U-M Health System, the Richard and Rosann Noel Endowment Fund, and Retirement Income Solutions.
UMMA will also be represented at a table at the Townie Street Party from 5-9:30 p.m. July 13 on North University between Fletcher and Thayer. The museum will present free water bottles, flying discs and stickers with quotes from famous artists.