Don't Miss: U-M career conference is March 6
The 33rd annual Women of Color Task Force Career Conference offers 22 workshop sessions to support professional and personal development for attendees.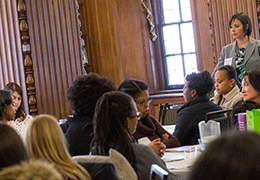 Attendees at last year's conference gather for a workshop. (Photo by Austin Thomason, Michigan Photography)
Conference sessions are from 8:30 a.m.-4 p.m. March 6 in the Michigan League, Modern Languages Building and Alumni Center. The theme is Tools for the Journey: Self-Awareness, Confidence & Respect. 
Alfred Squire, former workforce development manager for the Greenville Health System and current director of the MedEx Academy, will present a keynote talk at 8:30 a.m. at the Modern Languages Building Auditorium.
The conference is open to all. Registration is $120 for faculty and staff. A $100 special rate is available for U-M departments sending three or more people. For more information and to register, go to cew.umich.edu.
The conference is sponsored by TIAA-CREF, University Human Resources, U-M Health System Human Resources Office, Office of the Provost, and Center for the Education of Women.
Black alumni activist event celebrates Black History Month
Taking Back the X and Bringing Back the Love is a Black History Month event that highlights the diverse community-oriented professional pathways of U-M alumni.
It is presented from 5-7 p.m. Feb. 26 at Rackham Amphitheatre by the U-M Department of Afroamerican American Studies, Office of Academic and Multicultural Initiatives, and National Center for Institutional Diversity.
The event fuses storytelling and cultural expressions through a series of presentations by alumni. Through a Ted Ex presentation style, the program will integrate spoken word, music and storytelling. Speakers share the ways in which they have reclaimed black liberationist activism fostered by a desire to empower, uplift and heal others grounded by the practice of love.