Don't Miss: 'Puzzles, Riddles and Enigmas' explores blurred distinctions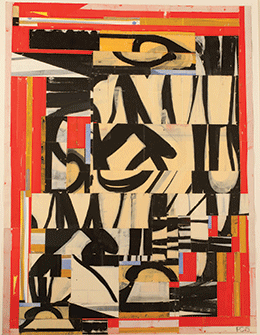 "Untitled #2" by Peter Crow is among the works presented in the Penny W. Stamps School of Art & Design 2015 Alumni Exhibition "Puzzles, Riddles and Enigmas." (Photo by James Rotz)
"Puzzles, Riddles and Enigmas" is the theme guiding the 2015 Penny W. Stamps School of Art & Design Alumni Juried Exhibition, through Aug. 1 in the Slusser Gallery, 2000 Bonisteel Blvd. and Work: Ann Arbor, 306 S. State St.
In this body of diverse art — fabrics, furniture, jewelry, objects, books, painting, photography and more — the surreal is found in works of solid construction where mathematically constructed surfaces assume a dreamlike quality. The jurors are Tom Berding, Michigan State University, and Michael Stone-Richards, College for Creative Studies.
"Corners, shadows and surfaces are treated materially and yet often take on a life of their own, as if such qualities suddenly have the capacity of looking back at their viewers," according to their juror's exhibit statement.
Alumni were invited to submit up to two works on the theme. More than 130 submitted 215 works. Grand Prize winners ($500 each) were Peter Crow, Julie Johnson and Mara Millich. Honorable mentions went to Michelle Bien, Sally Brogden, Sheryl Budnik, Ryan Herberholz, Megan Hildebrandt, Marcia Polenberg, David Rubello, Robert Sedestrom, Russell Thayer and Jean Wolff.