Don't miss: Pussy Riot, Zona Prava founders to appear in Stamps Series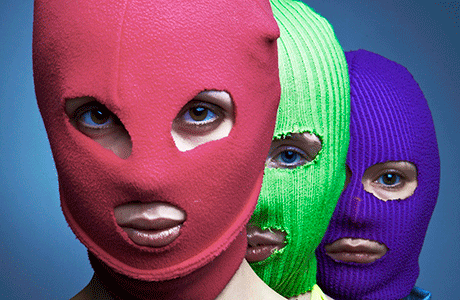 Pussy Riot and Zona Prava activists Nadya Tolokonnikova and Masha Alekhina will appear at 5:10 p.m. Sept. 18 at the Michigan Theater as part of the Penny W. Stamps Speaker Series. (Photo by Vanya Berezkin)
Founding members of the art collective Pussy Riot and Zona Prava, Nadya Tolokonnikova and Masha Alekhina, will appear as part of the Penny W. Stamps Speaker Series presented by the School of Art & Design.
The event is set for 5:10 p.m. Sept. 18 at the Michigan Theater, 603 E. Liberty St.
Pussy Riot is a feminist punk guerilla performance collective of approximately 11 women. Their unauthorized public performances address feminism, LGBT rights and opposition to Russian President Putin. Tolokonnikova and Alekhina are Lennon Ono Grant for Peace recipients.
In August 2012, following an anti-Putin performance in Moscow Cathedral of Christ the Saviour, the Russian conceptual artists and political activists were sentenced to two years' imprisonment. Upon their December 2013 release from prison, Tolokonnikova and Alekhina formed Zona Prava (Zone of Rights). The organization provides information, legal representation, safety monitoring, advocacy and oversight to help prisoners fight for their rights.
Their appearance is co-presented with the Weiser Center for Emerging Democracies and with support from the Institute for Research on Women and Gender. Established with the support of alumna Penny W. Stamps, the speaker series brings respected emerging and established artists/designers from a broad spectrum of media to the school to conduct a public lecture and engage with students, faculty, and the larger university and Ann Arbor communities.
Additional support is provided by series sponsors Michigan Radio, WUOM 91.7 FM and Arts @ Michigan.