Don't Miss: Opening reception, exhibit, celebrate maverick filmmaker
The student-researched exhibit "Sayles Pitch: John Sayles, Author, Auteur, Independent," features photographs, storyboards, scripts, props and more from the archives of the director of such films as "Lone Star," "Matewan" and "Brother from Another Planet."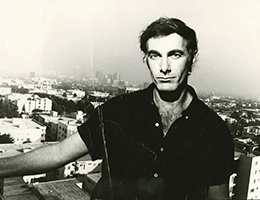 Filmmaker John Sayles is celebrated in a new exhibit at Hatcher Graduate Library.
A public opening reception is set for 4 p.m. Tuesday in the Hatcher Graduate Library Gallery. The exhibit is presented in the library's Audubon Room And Gallery, Room 100, through July 10.
It was in 2013 that writer and independent filmmaker Sayles and his longtime producing partner Maggie Renzi donated some 230 boxes of archival material spanning Sayles's entire career, from his 1979 directorial debut "Return of the Secaucus 7" through "Go for Sisters," his most recent release. The archive, which joins those of Robert Altman and Orson Welles in the library's "American Film Mavericks at Michigan" collection, includes scripts, production documents, legal documents, photographs, storyboards, correspondence, personal journals and props.
As part of their coursework, students in Screen Arts & Cultures 455: American Independent Cinema explored primary source materials to unravel the creative, technical and logistical processes behind Sayles films. What they found there forms the basis of this exhibit, which divides into sections. One examines a single film, Honeydripper, as a case study in Sayles's outside-the-system process. The second documents some of Sayles's work across genres as a writer — credited and uncredited — on films ranging from the monster movie "Alligator" to "Apollo 13."
 A symposium on Sayles' work will be presented June 4-5 in conjunction with the Cinetopia International Film Festival, where he will appear in person.