Don't Miss: New exhibit celebrates Ford presidential firsts
President Gerald R. Ford's 1974 visit to Japan and the December 1975 New York City bailout — two key moments of the Ford White House — are remembered in a new exhibit at the Gerald R. Ford Presidential Library.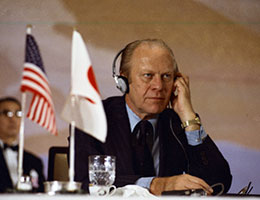 On Nov. 20, 1974, President Gerald R. Ford listens to an interpretation at a Japanese Press Club reception at the Imperial Hotel in Tokyo. It was the first visit to Japan by a sitting United States president. This photo is part of a new lobby exhibit at the Gerald R. Ford Presidential Lobby. (Photo by Ricardo Thomas)
"Presidential Firsts at Home and Abroad: New York City and Japan" is a lobby exhibit presented through June 2016 at the library, 1000 Beal Ave. on North Campus.
In November 1974, University of Michigan alumnus Ford became the first sitting American president to visit Japan. His visit with the Japanese emperor served to build positive United States-Japanese relations and honor the alliance between the nations.
In December 1975, after withholding aid to New York City for almost a year until conditions were met, Ford authorized loans of $2.3 billion. The city, on the brink of bankruptcy, restored its fiscal stability with a reorganized and streamlined budget.
The lobby displays commemorating these events feature artifacts, documents and photographs that tell the stories of these historically significant events.