Don't Miss: Musical connection of China, India celebrated in program
How Buddhism connects Chinese and Indian culture and history is well recognized. In comparison, the musical connection between the two civilizations is not as well known. Chinese music history and theory readily acknowledge Indian influences.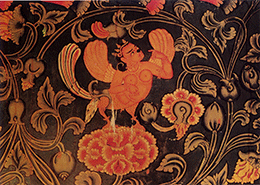 Kalavin'ka, an immortal creature in Buddhism, is known as an exquisite sounding bird. (Photo by Wang Xiaodun)
"Lasting Echoes: Musical Exchanges Between China and India," is a one-day symposium Feb. 13 hosted by the Confucius Institute of the University of Michigan. Presentations, performances and more are scheduled for the Vandenberg Room in the Michigan League, starting at 9 a.m., and Stamps Auditorium in the Walgreen Center, North Campus. The focus is historical and contemporary musical exchanges between China and India, with leading scholars and performers. The goal is to stimulate research on cultural and musical connections between China and India.
To highlight musical contacts and expressions between the two civilizations, the symposium will conclude with "East Meets East: A Gala of Traditional and Fusion Chinese and Indian Music." It is a performance of traditional and fusion Chinese and Indian music at 8 p.m. at Stamps Auditorium. This presentation is co-sponsored by the Center for World Performance Studies at U-M and the Music Confucius Institute Office at the Central Conservatory of Music, China.
A complete symposium schedule is at tinyurl.com/pmnn2qd.