Don't Miss: Matthaei holiday exhibits celebrate contributions of plants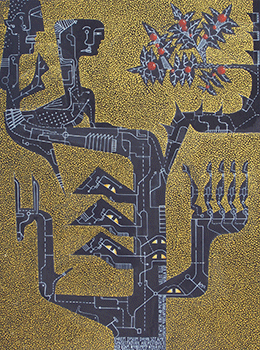 "Tree of Knowledge" by K.A. Letts is presented in the exhibit "Forest & Tree." It is on display Nov. 28-Jan. 3 at Matthaei Botanical Gardens.
"The Gift of Nature — 10 Plants that Changed the World" is a new holiday exhibit at the University of Michigan Matthaei Botanical Gardens. It features select plants in the conservatory that reveal the many ways plants benefit our lives.
Plants help people by providing medicine, tools, technology, food, design, economy, shelter and more. Also on display, in the gallery spaces at Matthaei concurrent with the "Gifts of Nature" exhibit is "Forest & Tree." It presents nearly 70 works of art contributed by U-M students, staff and members of the local community.
"Forest and Tree" is inspired by the idea that forests and the trees inhabit our imaginations as timeless places of mystery, beauty and undiscovered calm. The works on display are inspired by and explore what the forest, the trees, or both mean to the individual artists. Multiple media are featured, from a life-size bronze tree trunk created by a U-M professor of art to abstract paintings to photography.
"The Gift of Nature" exhibit also includes a seasonal flower display in the conservatory and evergreen trees with decorations related to the exhibit theme.
The exhibits are presented 10 a.m.-4:30 p.m. daily (until 8 p.m. Wednesdays), Nov. 28-Jan. 3. Admission is free.
Matthaei Botanical Gardens is at 1800 N. Dixboro Road.