Don't miss: Maggie's Standard Time Band performs jazz, swing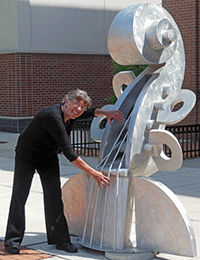 Led by Maggie Waltz on bass, Maggie's Standard Time Band has been called a talented, versatile, energetic quartet. The group performs a mix of new and old music from the Great American Songbook, and seeks to add a fresh, eclectic twist.
The free concert presented by Gifts of Art is from 12:10-1 p.m. Thursday in the University Hospital Main Lobby, Floor 1. Vocalist Kyle Newmeyer, pianist Jean Wilson, and drummer Rob Hejna perform in the band. They will be joined by guest vocalist Fiona Linn. Composers covered range from George Gershwin and Irving Berlin to James Taylor, Sting, Prince and Michael Buble.
In addition to leading Maggie's Standard Time Band, Waltz also performs with the Michigan Philharmonic, Livonia Symphony, the University of Michigan's Gilbert & Sullivan Society and Comic Opera Guild, among others.