Don't Miss: Heidelberg Project artist, creator Guyton at U-M Feb. 20
For almost 30 years the abandoned houses along Detroit's Heidelberg Street, transformed by bright, colorful paint, have inspired and offered healing to the community.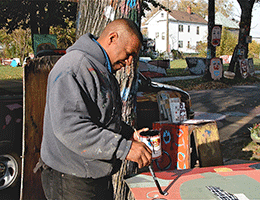 Detroit artist and creator Tyree Guyton will discuss his Heidelberg Project Feb. 20. (Photo by Geronimo Patton)
Artist and project creator Tyree Guyton will discuss the Heidelberg Project at 2 p.m. Feb. 20 in the Rackham Building East Conference Room, in the program "Inextinguishable — A Conversation with Detroit Artist Tyree Guyton."
In 2013-14, 12 arson fires gutted six installations on the street. It was the most devastating assault on the Heidelberg Project in more than 20 years. Guyton has re-doubled his efforts on the project. Debris and ash have been cleared away and new art emerges from the burned out structures.
In his first major public appearance since the fires, Guyton will discuss new construction on Heidelberg Street, a history of the site, a new museum, more work with the community, and ideas for new art.
The community-grounded model provided by the Heidelberg Project continues to fascinate museum professionals, providing a connection from the non-collecting museums first proposed by John Cotton Dana in the early 20th century to the socially relevant museums advocated by Stephen Weil and Elaine Heumann Gurian.
Other participants include Jenenne Whitfield, COO of the Heidelberg Project, and Larry Gant, professor in the School of Social Work and Penny W. Stamps School of Art & Design. A reception will follow.