Don't miss: Gifts of Art exhibit presents realistic Black History images
Educator Jon Onye Lockard uses brilliant acrylics to portray realistic images that convey stories in his exhibit, "Reflections, Remembrances & Reconstruction." It is presented from 8 a.m.-8 p.m. through April 7 in the Gifts of Art Gallery, University Hospital Main Lobby.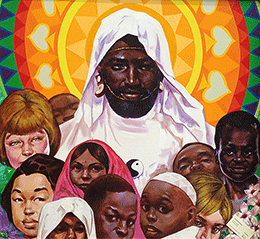 "All God's Children" is presented in the Jon Onye Lockard exhibit "Reflections, Remembrabces & Reconstruction." (Courtesy of Gifts of Art.)
Born in Detroit, Lockard currently lives in Ann Arbor and is a senior lecturer at the U-M Department of Afroamerican and African Studies and professor emeritus at Washtenaw Community College. A painter, portraitist, muralist, educator and illustrator, Lockard has been an artist for more than 50 years.
Stories unfold as you view his detailed works. Lockard says, "Everyone has a story to tell — make them hear you." He works to paint strong, positive images of African Americans often cloaked in African fabrics, symbols and signs. His work is in private collections and museums throughout the country.
Gifts of Art exhibits and musical performances are presented in prominent U-M Health System facilities. For more information, go to www.med.umich.edu/goa/index.htm.