Don't miss: Chinese Culture Festival set for Sept. 24-27
Ink painting and Chinese bluegrass music are among the offerings as the Confucius Institute at the University of Michigan showcases contemporary arts and music of China Sept. 24-27 in the Chinese Arts and Culture Festival.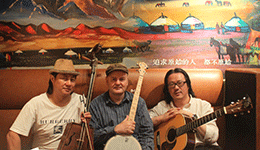 Meng Ke Na Seng, Paul Meredith and Jerry Liu will perform as part of the Chinese Culture Festival. (Photo courtesy of Paul Meredith)
The event celebrates the 10th anniversary of the founding of Confucius Institutes.
Anchoring the festival is Professor Pan Gongkai, critically acclaimed artist, author and president of the Central Academy of Fine Arts, China. Pan's ink paintings have been exhibited at the Paris headquarters of UNESCO, and major art museums in New York, San Francisco, Beijing, Tokyo, Hong Kong and Macao.
He will present the lecture "Ink Painting as Case Study: Combining Traditional Elements with Contemporary Practices" at 4 p.m. Sept. 26 in the Pendleton Room of the Michigan Union. An exhibition of his multimedia works, "Pan Gongkai: Melt," is presented through Oct. 11 at the Penny W. Stamps School of Art and Design Work•Ann Arbor Gallery, 306 S. State St.
Among musical offerings featured during the festival, "New Sounds of Ancient Music" is a program presented from 8-10 p.m. at Rackham Auditorium, by the Music Masters Ensemble of the Shanghai Conservatory of Music. Featured are original compositions for traditional Chinese musical instruments, depicting three famous Chinese stories from more than 1,000 years ago: "Night Revels of Han Zaixi," "Drinking Wine From Goblets Drifting Downstream" and "Flowing Water."
"In China Now!" is an American Folk-Chinese Bluegrass Concert, from 8-10 p.m. Sept. 27 in the Mendelssohn Theatre. The performers are Paul Meredith and The Nomads, featuring Jerry Liu and Meng Ke Na Seng on banjo, horsehead fiddle and throat singing. The performance features original songs written and performed by Meredith who lived in Hong Kong and mainland China for more than 20 years.
For more information on festival performances and films, go to www.confucius.umich.edu.