Don't Miss: Children and young adults focus of 'Suspended Moments'
"Suspended Moments: Photographs from the David S. Rosen Collection," through Feb. 15 in the U-M Museum of Art, is a tribute to the late Dr. Rosen as a U-M educator and artist, and also examines his collection of still life photography.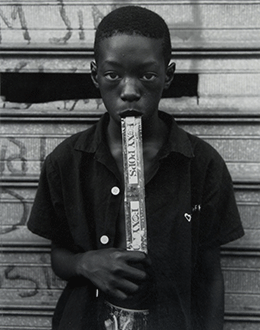 "Bey-Boy" is from "Suspended Moments: Photographs from the David S. Rosen Collection." (Photo by Dawoud Bey)
Rosen was a physician on the staff of the University of Michigan Medical School, and a pediatrician with a specialization in adolescent medicine. The exhibition — featuring photographs of children at various stages, particularly the years that chart the transition from childhood to adulthood — includes images related to the photographer's research interests. Rosen's photos offer insights into an interior world glimpsed from the vantage point of a child or young adult.
In addition to Rosen's own photographs of young adults and children, the exhibition also features the works of other photographers known for their images of childhood, including Sally Mann, Dawoud Bey and Helen Levitt, among others. He was a dedicated collector as well as a practicing photographer.
The exhibition also examines the doctor's vision as a collector, in works by landscape and still life photographers including Ansel Adams, Michael Kenna, Howard Bond and Billie Mercer. Lead support for the exhibit is from the U-M Health System.