Don't Miss: Artist Donald Calloway's work on exhibit at U-M Detroit Center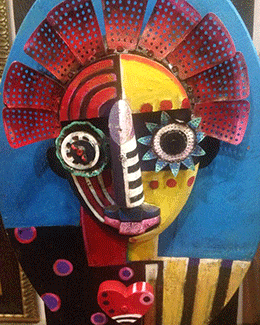 "My Favorite Art Teacher," by Donald Calloway.
"The Artistry of Donald Calloway" exhibition through Feb. 7 at the University of Michigan Detroit Center, 3663 Woodward Ave., celebrates the works of the respected visual artist.
Calloway's career spans nearly three decades. Presented in the Lester P. Monts Hall, the exhibit features an eclectic group of the artist's paintings and sculptures.
The winner of the Plowshares Theatre Company Sankofa Arts Award, native Detroiter Calloway's work has been featured in numerous solo and group exhibitions with such organizations as the Arts Extended Gallery, Delta Sigma Theta, Liberal Arts Gallery, Charles H. Wright Museum of African American History, and National Conference of Artists Gallery.
Most recently, his work was showcased at the 2014 Palmer Park Art Fair. For more information, call the Detroit Center at (313) 593-3584 or email detroitcenter@umich.edu.