Don't Miss: Art exhibit celebrates U-M artist Jon Onye Lockard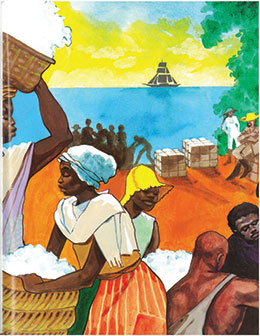 This image from the book "Ebony Sea" illustrated by Jon Onye Lockard and written by Irene Smalls is among works presented in the exhibit "Jon Onye Lockard: Celebrating His Life and Legacy." (Illustration by Jon Onye Lockard)
Artist and educator Jon Onye Lockard, who died in 2015, was a founder of the U-M Department of Afroamerican and African Studies and a mentor to many on the University of Michigan campus and beyond. His paintings can be viewed across the U-M campus, including several murals in residence hall lounges.
The exhibit "Jon Onye Lockard: Celebrating His Life and Legacy, 1932-2015," honors the life and work of the late U-M professor. He was instrumental in the development of African-American arts and culture at U-M. His artistic style captured the spirit of civil rights and black pride.
The exhibit can be viewed from 8 a.m.-10 p.m. Monday through Thursday, 8 a.m.-5 p.m. Friday, 1-6 p.m. Saturday and 1-10 p.m. Sunday through May 15 in the Fine Arts Library, 855 S. University Ave.
Join a reception from 3-6 p.m. Feb. 23 in the library with Leslie Kamil, the artist's widow. Light refreshments will be served.