Old school: U-M in History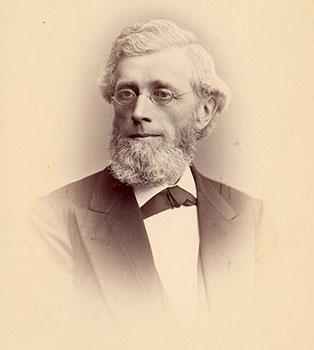 LSA, the University of Michigan's first college, celebrates its 175th anniversary this year. Henry Simmons Frieze became the college's first dean, but not until 1875. Established in 1841 with seven students and two teachers, the college held its first classes in Ann Arbor that featured a curriculum rooted in literature, science, and the arts — a revolutionary approach at the time. Henry Simmons Frieze, right, became the college's first dean, but not until 1875. (Photo courtesy of Bentley Historical Library)
This month in history (33 years ago)
When "the wave" first rolled through Michigan Stadium early in the fall of 1983, Athletic Director Don Canham was not pleased. Michigan's cheerleaders brought the wave to Michigan Stadium after witnessing fans perform it in the season opener in Seattle. Canham called the cheerleader adviser to his office and made it clear he never wanted to see it at Michigan Stadium again and ordered him to "straighten out those cheerleaders."
Fearing U-M could be penalized for the distraction, Bo Schembechler threatened to play in an empty stadium if it occurred again. So when the wave reappeared at the 1983 homecoming game in October, Canham was furious. A scathing Oct. 24 memo warns, "That stupid display might have been a lot of fun for a lot of people, but it cost us a penalty and almost lost the football game for us. I have told you and others a million times that the cheerleaders and (pompom) girls are not the feature of the day; the feature of the day is the football game and we will continue it that way at Michigan. … I tried to impress on you that we are not some small crossroad college with mascots and gimmick cheers. If you think I am upset, you are right."
But the fans, especially the student section, had adopted the wave as their own. The fact that Canham and Schembechler objected to it only added to its attraction for the students. The wave soon became a regular feature of Michigan football Saturdays. In 1984, it was even incorporated into a Marching Band halftime show. Over the years, a set of rules evolved governing when and how the wave and its variants would occur that addressed some of Canham's objections.
— From the Bentley Historical Library magazine, Collections, fall 2016 issue