Disney on Ice performer works to reduce childhood obesity
After graduating high school, Brad Newman wasn't sure about his next step. His path led him to skating with Disney on Ice.
"I thought I'd join the company for one to two years and pursue education later. I ended up staying for five years," he said.
Brad Newman, wellness and grants coordinator for Project Healthy Schools, grew up the youngest of four athletic boys in Howell, Michigan. While initially he thought he'd try gymnastics, after Newman saw the 1988 Olympics he knew he wanted to skate. He began skating at age 7 and hasn't stopped.
Upon graduating high school, he wanted to continue skating so he followed in a friend's footsteps and auditioned for Disney. Auditions included sending in a skating resume and a three-minute video showcasing an artistic skating program set to music, followed by an in-person audition. He auditioned in the fall and spring, and was accepted for a summer tour.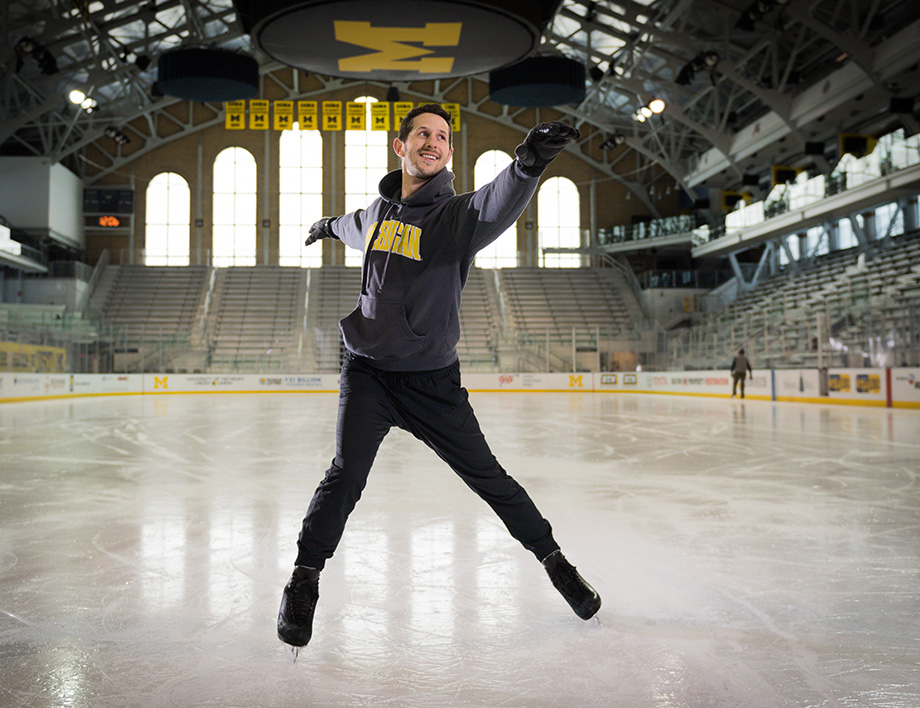 Brad Newman, wellness and grants coordinator for Project Healthy Schools, started skating at age 7 and hasn't stopped since. He spent five years with Disney on Ice. (Photo by Daryl Marshke, Michigan Photography)
Disney on Ice begins with two weeks of heavy preparation, practicing choreography on and off the ice for 10-12 hours per day. Once the company begins touring, performers travel for four to 12 months all across the world.
"You live and breathe your work. Figure skating is usually competitive, but we had lots of nationalities come together for the same goal. It's one of the great characteristics of the company," he said.
Newman went on several tours, ranging from North America to Southeast Asia to Central America. He was understudy for Woody from "Toy Story," Scarecrow from "The Wizard of Oz," Gaston from "Beauty and the Beast," The Sergeant from "Toy Story" and Shan Yu from "Mulan." Character coaches help performers master precise body movements and facial expressions for each individual character.
"When you join the company, you're a figure skater. When you leave, you're a performer," he said.
After five years with the company, Newman returned to school. He earned a bachelor's degree from Western Michigan University and a master's degree in higher education from New York University before working as a resident director at Florida Gulf Coast University for four years. He returned to family and friends in the Midwest in the summer of 2016.
Once back in Michigan, he began volunteering with Project Healthy Schools. PHS, partnered with Michigan Medicine, engages middle schoolers with five healthy habits to support healthy choices in the goal of reducing obesity. Newman worked his way from volunteer to part-time and, last spring, to a full-time employee.
In his position, he works as a wellness coordinator for six schools in the Upper Peninsula, allocating funds and suggesting health initiatives such as smoothie-making events, 5Ks, and local fruit and vegetable food tastings for students and staff. He also coordinates grants to receive funding.
"I enjoyed higher education, though I wanted to find a position that combined my passion for education and health. For long tours, performers had little time to heal from injuries. That's where I learned my interest in nutrition and fitness," he said.
The weekly Spotlight features faculty and staff members at the university. To nominate a candidate, email the Record staff at urecord@umich.edu.
Newman stays on the ice as a part-time skating coach, most recently at the Ann Arbor Ice Cube. He has helped skaters from ages 3 to 70 accomplish their skating goals.
"Every skater has different needs, which makes coaching a challenging yet highly rewarding experience," he said.
Luckily, he says, he doesn't have to leave the ice just yet.
"There are numerous ways to stay involved, such as becoming a figure skating judge, so it's good to know that I can stay connected and give back to the sport well into the future."