Detroit Urban Research Center manager doubles as part-time chocolatier
Julia Weinert's love of chocolate may have started by sampling different specialty chocolate bars at Zingerman's Delicatessen, but it sparked a desire to pursue the art of chocolate making.
Weinert, center manager of the Detroit Urban Research Center, followed this interest and soon took on a part-time internship with Mindo Chocolate.
Mindo Chocolate was founded by Jose Meza and Barbara Watson, a couple from Dexter who retired in Mindo, Ecuador. They opened an Internet cafe where they also sold baked goods. Visitors raved over their brownies, but in order to make them the couple, unable to find quality chocolate in Ecuador, had to bring chocolate back from Dexter when they visited.  
Considering that Ecuador yields so many cacao beans, it didn't make sense that quality chocolate wasn't being made locally, so the two began partnering with local cacao farmers. Their property grew into a facility that allowed them to ferment, dry, roast and winnow the cacao beans. The company eventually opened up shop in Dexter, as well.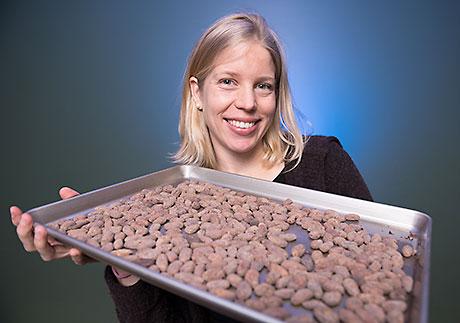 Julia Weinert, center manager of the Detroit Urban Research Center at the School of Public Health, pursued her interest in chocolate by taking on a part-time internship with a chocolate maker. (Photo by Eric Bronson, Michigan Photography)
Weinert originally came to U-M to complete her undergraduate and master's degrees. In her time here as a student in the School of Public Health she interned with the Detroit Urban Research Center (URC).
The URC is a community-based participatory research partnership that works with organizations in Detroit to identify health problems affecting the city. It conducts research that seeks to design public health programs and policies to promote health equity and reduce health disparities.
A year after graduation, Weinert returned to the URC, this time as a communications specialist. She recently became center manager. She spends her time working on project management for the center, as well as writing grants and finding funding those projects and for new partnerships.
Her job as a communications specialist, however, allowed for her to spend every Friday at the Mindo plant in Dexter learning how to make chocolate — starting with the bean and culminating with the bar.
"It's also cool being a part of a small business in the community and seeing how they operate," Weinert says.
Each summer, the Mindo plant hosts a one-week Bean-to-Bar chocolate course, where chocolatiers from all over the world travel to Ecuador to learn how to make chocolate. This past June, Weinert was offered the opportunity to help, allowing her to work in Mindo for a week and meet the cacao farmers.
The weekly Spotlight features faculty and staff members at the university. To nominate a candidate, email the Record staff at urecord@umich.edu.
A blossoming chocolate connoisseur, Weinert speaks passionately about why she finds chocolate so interesting, from its history to its health benefits. She describes the bean-to-bar process as being very complex and unique in the food industry.  She also notes how each step of the process can impact the flavor and quality of the end product.
"All beans have their own flavor profile," Weinert explains. "It's like wine — wherever the grapes are grown, how they're grown, how they're prepared, they acquire different flavors."
Although Weinert's internship with Mindo is over, she has high hopes to continue working with chocolate in the future, especially in the Ann Arbor community. In fact, as an extension of her work with Mindo she is hoping to launch a Midwest chocolate society chapter, which could take on a range of forms, from a group of chocolate lovers meeting to try different bars or meeting at different restaurants and businesses to explore how chocolate is used in different foods.
While Weinert currently is expecting a child, which may delay her plans, she says both the Detroit URC and chocolate will continue to be a part of her life. She also hopes to see the chocolate society become a reality in the near future.