Department of Theatre & Drama celebrating its centennial
In 1915, the University of Michigan was the first university in the country to offer theater production classes for credit. That same year saw the birth of future U-M graduate Arthur Miller, who went on to be one of the nation's most distinguished playwrights.
Now, 100 years later, the Department of Theatre & Drama, part of the School of Music, Theatre & Dance, celebrates its centennial and Miller's centenary, as well as 125 years of offering acting classes for college credit.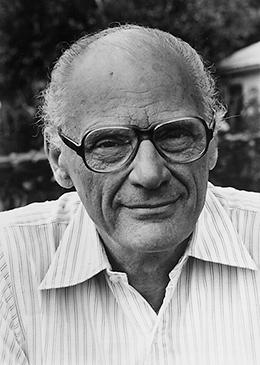 Playwright and U-M alumnus Arthur Miller. (Photo courtesy of SMTD)
U-M's Homecoming weekend, Oct. 8-11, will host the majority of the centennial festivities, including a reunion concert Oct. 8 with StarKid, a coalition of writers, directors, actors and designers formed by U-M students in 2009. The troupe pioneered the use of the Internet as a new and innovative way to produce theater.
The weekend will also offer alumni-hosted career sessions Oct. 8-9, in which theater, film and television artists — including Tony-winning Broadway director Jack O'Brien and the StarKid cast — share advice with current students. An alumni tailgate will take place prior to the Oct. 10 football game.
The centerpiece of the festivities, honoring both the centennial and the Miller centenary, are student performances of Miller's "All My Sons" Oct. 8-18 at the Arthur Miller Theatre at SMTD's Walgreen Drama Center.
The play will feature an all-alumni creative team led by director Wendy Goldberg, artistic director of the National Playwrights Conference at the Eugene O'Neill Theater Center in Waterford, Conn. The production also features U-M graduates Caleb Levengood (scenic design), Taran Muller Zackrison (costume design), Christian DeAngelis (lighting design) and Henry Reynolds, assistant professor of theatre (sound design).
In the week following Homecoming, the Department of Theatre & Drama hosts the Arthur Miller Symposium, as well as a mini-conference, to explore Miller's time at U-M and his connection to the university throughout his career.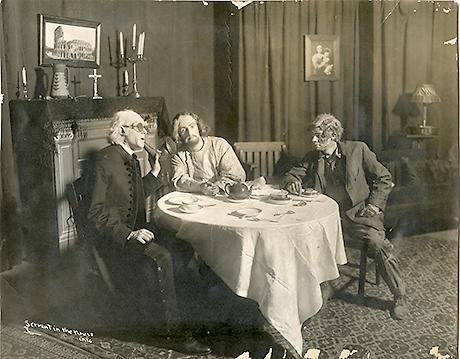 This 1916 production of "A Servant in the House" was the first U-M play produced for college credit. (Photo courtesy of SMTD)
Symposium events include:
• "Miller into the Future," a keynote address by Miller expert Enoch Brater, the Kenneth T. Rowe Professor of Dramatic Literature (Oct. 14).
• "Miller as Touchstone for Education, Training and Social Engagement," a panel discussion featuring Leigh Woods, professor of theatre; Laurence Goldstein, professor of English language and literature; and alumnus Richard Ferguson-Wagstaffe (Oct. 15).
• "Miller in Production," in which distinguished alumni and other theater artists discuss their experience in working on Miller's plays and how it affected their lives and careers. The panel will feature award-winning actor and director John Tillinger and Mark Lamos, artistic director of the Westport Country Playhouse in Connecticut, where he is currently directing Miller's "Broken Glass" (Oct. 16).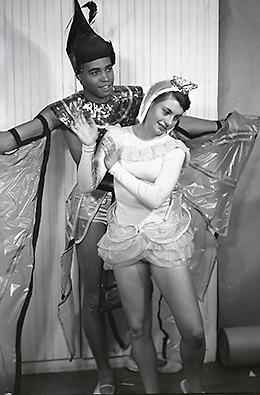 James Earl Jones in a 1952 production of Aristophanes' "The Birds." (Photo courtesy of the Bentley Historical Library)
Mini-conference events, sponsored by the U-M Drama Interest Group, include panels that feature:
• Rosemary Malague of the University of Pennsylvania, and Isabella Peralta and Arianna Stucki of New York University Abu Dhabi discussing the character of Linda Loman from Miller's "Death of a Salesman" (Oct. 14).
• David Palmer, vice president of the Arthur Miller Society, and Claire Conceison of Duke University (Oct. 15).
• Rupali Mirza of Integral University in India and Shelley Manis of U-M speaking on Miller's "No Villain" and "The Archbishop's Ceiling" (Oct. 16).
The Department of Theatre & Drama can lay claim to hundreds of successful graduates across the spectrum of theater careers, including actor James Earl Jones, who has won Tony, Oscar and Emmy awards; Broadway director Benjamin Endsley Klein; actor Darren Criss; Tony Award-winning producer Richard Winkler; actor James Wolk; Kennedy Prize-winning playwright Dominique Morisseau; television agent Marc Kamler; and two-time Emmy-winner Margo Martindale.