Data architect is world champion in Ultimate Frisbee
For Richard Eikstadt, a chance encounter with a classmate during his freshman year of college kick-started his journey in the world of professional sports.
Eikstadt, a senior data architect in the Pediatric-Nephrology Unit of the Medical School, now plays Ultimate Frisbee competitively on multiple national and international teams. Ultimate Frisbee, a game with elements of football, basketball and soccer, is a sport that recently has experienced increased popularity.
In his work at the University of Michigan, Eikstadt finds some similarities between his sporting activities and facilitating research on rare diseases in children.
"I really like gathering data, it satisfies this innate nerdy part of me because it's like solving a bunch of little puzzles," he says. "When you work with data it's like playing a game. You're constantly getting feedback about what you're doing and if you need to change direction."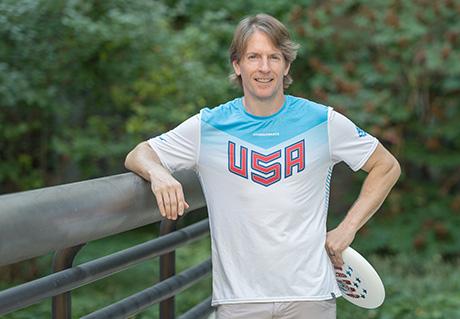 Richard Eikstadt, senior data architect in the Pediatric-Nephrology Unit of the Medical School, started playing Ultimate Frisbee as a freshman in college. (Photo by Scott C. Soderberg, Michigan Photography)
Eikstadt explained that Ultimate Frisbee operates similar to a variety of sports.
"People run on the field, like soccer. You advance the disc by passing it to one another, so in that respect it's a little like football. But when you have the disc it's more like basketball because you can't run with it, you can only pivot," he says.
His journey with Ultimate Frisbee started during his freshman year of college at Ohio University.
"I had a classmate who invited me out to practice with him," he says. "And the first day we started out running from the opposite side of campus and up this hill, which is the highest point in Athens. We made it to the top and I just remember thinking, 'Oh my, I'm so tired.' But then I looked out and saw the entirety of campus and that was really impressionable. I had done this difficult thing with this group of guys and it made me want to continue."
Since then, Eikstadt has participated in 25 championship events, winning seven U.S. events, two worlds championships and one Pan-American. In July, he clinched his 10th championship during a competition in France.
"This game was particularly special to me because a number of Michigan Ultimate alumni and my family were supportive in helping me reach that goal," he says.
The most notable moments from his time playing are the culmination of any game. "When your team is in the endzone and you can see that you're about to score that pivotal point and you're anticipating that moment — that moment where you cinch it is pretty memorable," he says.
Not only does Eikstadt have an impressive track record for playing Ultimate Frisbee, but he also coached the U-M Men's Ultimate team for 17 years — making him the longest standing college Ultimate Frisbee coach.
"When I started out I wanted to see what difference I could make with the team. Over time that changed to my wanting to be a part of something that's great," he says.
The weekly Spotlight features faculty and staff members at the university. To nominate a candidate, email the Record staff at urecord@umich.edu.
During Eikstadt's time coaching, his team qualified for the national championships 12 times and won seven regional titles.
On his coaching methods, Eikstadt says, "I tried to keep it fun. Ultimate relies on sportsmanship — there's no referees. I wanted us to be a well-respected group in how we played but also in how we carried ourselves."
After 17 years, Eikstadt stepped down from coaching the team. "I felt like I had given the team the most that I was able to give," he says.
As for Eikstadt's personal Ultimate career, it's not quite over yet. He already has on his agenda the world championships next year in Winnipeg.