Concerts to mark 50th anniversary of MLK Jr.'s assassination
Three concerts presented by the University of Michigan School of Music, Theatre & Dance will honor the legacy of the Rev. Martin Luther King Jr. in observance of the 50th anniversary of his April 4, 1968, assassination.
The first concert will take place at 7:05 p.m. Wednesday, when Burton Memorial Tower will join the National Civil Rights Museum of Memphis and bell towers across the country and the world in marking the Martin Luther King Jr. 50th Anniversary Commemoration with 39 tolls of its great 12-ton bourdon bell.
The tolls will be followed by the Rev. Thomas Dorsey's "Take My Hand, Precious Lord," King's favorite gospel hymn, performed by university carillonist Tiffany Ng.
The University Symphony Band, led by Michael Haithcock, will perform the second concert at 8 p.m. April 6 at Hill Auditorium. A pre-concert conversation at 7:15 p.m. will take place in the lower lobby.
The program includes Oskar Morawetz's "Memorial to Martin Luther King," which will feature professor Anthony Elliott on cello. The work uses what the composer said was King's favorite spiritual, and in five sections traverses his life's journey.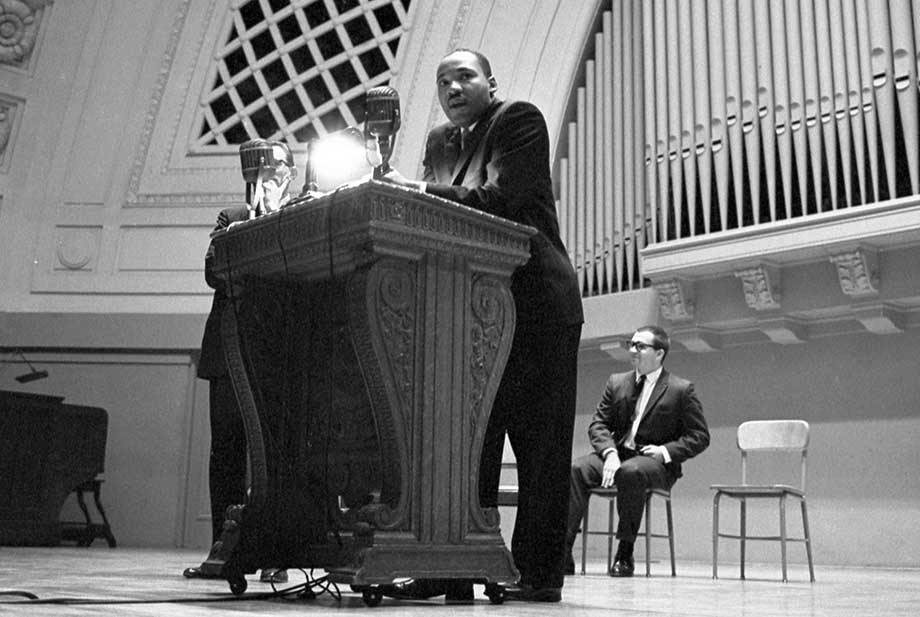 The Rev. Martin Luther King Jr. spoke at Hill Auditorium on Nov. 5, 1962. (Photo courtesy of the Bentley Historical Library)
Also included is "Of Our New Day Begun," written by Omar Thomas in response to the recent Charleston tragedy, and Joseph Schwantner's "New Morning for the World: 'Daybreak of Freedom.'" The latter features narration based on King's speeches, performed by Daniel Washington, professor of music.
According to Haithcock, director of bands and professor of music, the evening's program includes works based on the concepts of liberty for all, MLK's leading by "faith," and a closing message of hope that is based on "Lift Every Voice."
"In paying tribute to Dr. King through this concert, I hope the power of the arts to touch the human spirit in a different way than Dr. King was able to do through the power of his words will do him justice," he said.
The University Symphony Orchestra, led by Kenneth Kiesler, director of university orchestras, will also honor King's legacy and memory in its final concert of the 2017-18 season at 8 p.m. April 13 at Hill Auditorium. There will also be a pre-concert lecture at 7:15 p.m. in the lower lobby.
The concert opens with "Fanfare for the Uncommon Woman," composed by Pulitzer Prize-winner Joan Tower.
In addition to Schwantner's "New Morning for the World," the USO program also includes Aaron Copeland's "Symphony No. 3," which is considered one of the greatest symphonic creations of American music. It was written in 1942 following then Vice President Henry Wallace's speech proclaiming the dawning of the "Century of the Common Man."
All performances are free and open to the public.